There are over 26 million eCommerce websites around the world, with more being created every day. In 2021, 2.14 billion digital buyers crowded the internet space. This equates to 27.6% of the world's population of 7.74 billion people.
In the vast world of eCommerce, live chat is gradually becoming a key element to conducting inbound and outbound customer communication.ive chat
Nothing can delight customers more than instant response and resolution whenever their needs arise.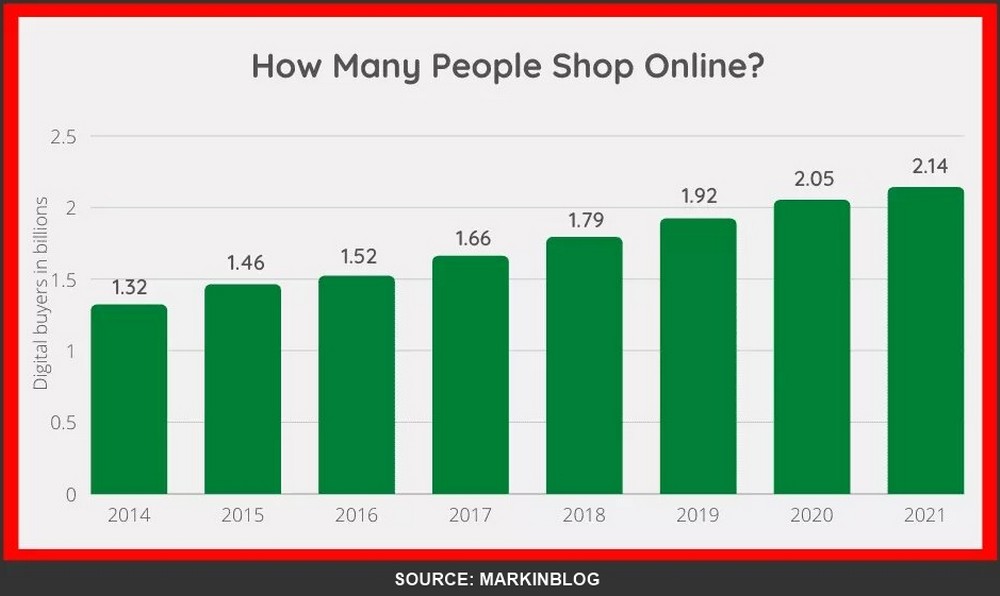 Live chat offers remarkable speed and typically, a better resolution to customers as compared to other traditional support channels like phone and email.
As a result, live chat acts as an effective bridge between customers and businesses. It also influences customers positively to shop and visit the business again.
If you are an eCommerce business owner who is looking for innovative ways to increase revenue, you may consider implementing a live chat button on your website.
In this article, we are going to discuss how live chat can lead to higher customer conversion rates and increased revenue.
What Is Live Chat Software?
Live chat software allows visitors to contact you directly within your website. It serves as an instant messenger where your clients can get in touch with you and request assistance or information in real-time.
Live chat software allows companies to offer better customer and IT support, gather feedback, enhance user experience, and eventually increase conversion rates.
Live Chat Statistics, Trends and Insights
Live chat is an important tool for marketing and sales. Not only does it let you help with sales in real time, but it also lets you start a conversation with potential customers. By using live chat, you can effectively navigate eCommerce challenges and ensure a personalized and responsive approach that resonates with consumer demand.
Let's look at some interesting facts about how businesses have benefited from live chat over time:
63% of customers said that they would be more likely to come back to a website that has live chat than one that doesn't.
44% of people who buy things online say that being able to talk to a real person when they have questions is one of the most important things a website can offer.
38% of customers said the chat itself was the reason they bought something.
Live chat increases sales by 48% per chat hour and increases conversions by 40%.
59% of customers are more likely to buy from a brand when their questions are answered in less than a minute.
If customers can't find quick answers to their questions, 53% of them are likely to give up on their online purchases.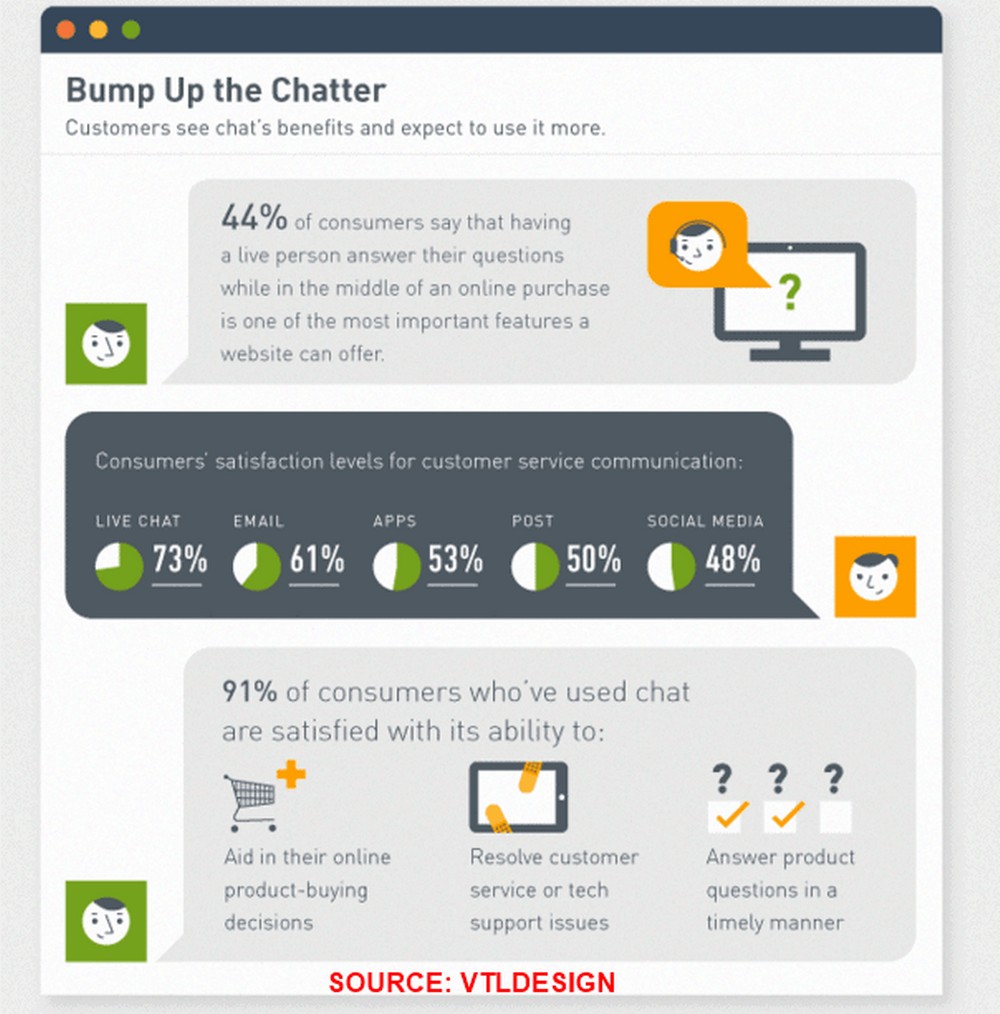 Live chat connects the personal, timely service that makes visitors loyal customers in the real world with the scalability of software and the return on investment (ROI) of automation.
It has given businesses a new way to sell and market themselves. This is the true nature of "conversational marketing."
The Benefits of Live Chat for eCommerce Stores
Live chat is a cost-effective way to improve the customer experience and reduce the abandonment rate. It is a way for the company to provide personalized service and build relationships with their customers.
Studies have shown that live chat has been successful in reducing customer abandonment rates and increasing conversion rates. Live chat offers an opportunity for customers to ask questions, get support, or even buy products without having to wait on hold or go through several different channels. If you run an eCommerce store, live chat can deliver some tangible benefits, including:
Instant Service
No one has the time to sit down and write an email just to ask what colors of a coat are available. Having a live chat option will keep people from leaving their shopping carts empty.
Research shows that 57% of customers leave their shopping cart when they don't get a quick answer to their question.
Most of the time, these customers won't wait to send an email. Instead, they'll go to another store.
Serving Multiple Customers Simultaneously
When a customer calls your helpline, you can only help one person at a time.
Statista says that 12% of customers complain about how slow customer service is. But live chat can solve this problem because your agent can talk to more than one customer at once.
Deliver Personalized Service Based on Shopping History
Live chat lets you give your customers more personalized service. There are certain live chat apps that allow your agents to see what customers have talked about, bought, and looked at in the past.
If a customer has a problem, you can start a chat with them after looking at their history and help them solve the problem.
The customer history can also help you make suggestions and recommendations that are more relevant to that person.
Save Time With Automation
The most up-to-date live chat apps have powerful automation tools. They let you send automated messages and respond with one click using customized replies.
Speaking of automation, there are also very useful technologies for ecommerce like ecommerce scraper. They help merchants find information about search pages and products, and thus better understand needs.
The app can also help your customers track their orders and let you set up rules for how things should work. Most queries are repetitive, but automation can save time.
Customers usually ask about the status of their orders, how to pay, and how to return items. If you can set their answer to be sent automatically, and your team can work on other tasks.
Increased Conversion
If you help your customers out and fix any problems with your product or service right away, they won't hesitate to come back.
In fact, 40% of people who buy online and use live chat are more likely to buy online again.
A support system that is easy to understand may also make customers want to buy more from you. Customers will ask their questions right away, which can increase conversions.
Lead Generation
Not everyone buys something on their first visit to an eCommerce store.
Some just want to look around and see what's there. Others might not be ready to trust a new retailer they haven't used before.
In both situations, collecting leads is a great way to improve lead nurturing and, in the end, encourage the customer to buy.
If you use chat automation, you can generate leads even when your store is closed. This can help your business stand out from the rest.
How Can eCommerce Live Chat Improve Your Conversion Rate?
Live chat software is a great way for eCommerce store owners to increase their conversion rate. Including live chat on your website can improve the customer experience and your conversion rate.
Here's how:
1. Tell People Where To Go
Live chat is the most popular way for customers to connect with businesses today. This means that a lot more people are likely to trust it more than other, more traditional ways to get in touch.
Pay close attention to which pages on a site get the most questions or live chat conversations. Then use those conversations as a starting point for your on-page optimizations.
Live chat is also a great way to stop customers from having problems in the first place.
For example, if you see a lot of chats on your pricing page asking for more information about the packages, you need to make that page more detailed so that your visitors can fully understand your pricing model.
2. Help People Before They Ask for it
No matter how nice your team is, your customers will be much happier if they never need to contact you for help.
By looking at which pages the user visited and how long they spent on each page, you can give your support staff the information they need to start a chat.
You could ask the user if they have a question after they've been on the page for 30 seconds, scrolled a certain amount, or interacted with a module on the page (like a calculator).
Your checkout page is a good place to try this out.
It's a place where visitors can often get confused. Data shows that many customers give up on making a purchase at this point.
3. Make It Easy for Visitors
If you're on more than one social media platform, make sure that all questions and comments from customers on each platform are answered.
Many times, a customer sees something on a social media channel and tries to get in touch with the brand but that channel does not have chat support.
Because of this, many customers tend to stop caring about those businesses.
If you use multiple social media channels to promote your business, you should make sure you offer omnichannel support by integrating all of your social media channels into your support system.
4. Target Visitors on the Right Pages
We recommend businesses offer live chat on only a few pages where it makes sense.
You should ideally put live chat on the pages where you get the most questions or where you think people are most likely to be confused or nervous.
Your sales or price pages are a great example of this.
You may also want to think about the account management and preferences page, the user management panel, the first time you see your product or product dashboard, and the first time you see your documentation.
5. Offer a Pre-chat Survey
People generally don't like to repeat themselves. By asking a customer for information and making sure your team reads it, you can give your customer service agent important information about the problem a customer is having.
You can save this information in your live chat system so that anyone else who talks to this customer can also see the information about their past questions.
Keeping everyone in the loop helps make sure that all of your users have the same experience.
6. Keep It Personal
People don't want to talk to robots. Encourage your support team to match the customer's tone and try to be as friendly as possible.
Modern consumers care more about getting along with and being able to trust the brands where they shop than about the products and prices.
Live chat is a quick and easy way to turn visitors into customers. In this situation, personalization is a big help!
How Much Can Live Chat Increase Conversion Rates?
Live chat is more than just a way to talk to people; it also increases the number of people who buy something from a website.
Live chat has become the most popular way to increase sales and conversion rates. 46% of customers who use the internet prefer live chat to email, and 16% prefer social media.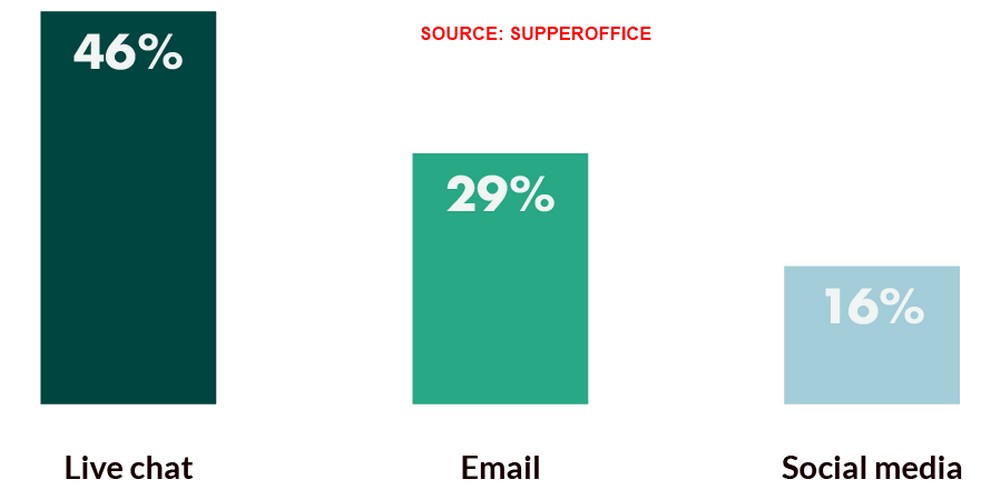 If a visitor chats with you first, they are 82% more likely to become a customer. Also, their accounts are worth 13% more than those where the business didn't talk to the customer first.
Encouraging real-time conversations isn't just nice to have, it's also a great way to capture and convert website visitors.
One reply in live chat can make a visitor 50% more likely to convert, and another reply makes them 100% more likely to convert.
A simple conversation with six messages back and forth increases the chance that a visitor will become a customer by 250%.
Live chat bridges the gap between the personal, timely service that makes us loyal customers in real life and the scalability of software and the ROI of automation.
Measuring the Effectiveness of Live Chat
Live chat offers an opportunity for customers to ask questions, get support, or even buy products without having to wait on hold or go through several different channels. While it is considered as an effective channel, it is hard to measure the effectiveness of live chat in order to know if this investment is worth it or not.As data drives decisions, so measuring the effectiveness of live chat is essential.
You could measure:
First Response Time
When customers have a question or concern, they want a quick answer, preferably within seconds. On average, it takes 56 seconds for a live chat to respond to the first question.
So the goal is to talk to customers for the first time in less than a minute.
The good news is companies with live chat can cut the time it takes to answer the first question significantly.
Live chat agents should be online when your customers are, and they should be able to connect with them almost right away.
This means that if you can't offer live chat support 24 hours a day, 7 days a week, you should turn off the feature or clearly notify when you're not available.
Average Response Time
The Average Response Time (ART) is the average amount of time it takes for an agent to answer a question.
Since live chat lets the agent and the customer talk to each other in real time, it's much easier for agents to quickly understand and solve customer questions.
If your ART is high, these things could be to blame:
Agents don't have enough training.
Agents have too much work to do and might not have the right tools to help customers more quickly.
It could mean that the product has bigger problems that can't be fixed quickly.
Customer Satisfaction Score
CSAT scores let you know how happy customers are with your company or product.
In order to figure out a person's CSAT score, they are often asked a single question or a set of questions in the form of a survey sent at the end of a conversation.
For instance:
How would you describe your experience on our website as a whole?
Highly dissatisfied
Dissatisfied
Neutral
Satisfied
Extremely happy
If you find that visitors describe their website visit experience as highly dissatisfied or dissatisfied, you might want to take a look at the following reasons:
Let's quickly look at why your score might be low:
Long time to first answer.
Agents took a long time to find a solution to a problem.
I didn't know enough about the product.
Low first response SLA percent, which can be caused by making too many promises and not following through.
What Is the Best Live Chat Software for eCommerce?
There are a number of live chat applications out there, so choice isn't something you're short of.
We consider the following to be worth your time.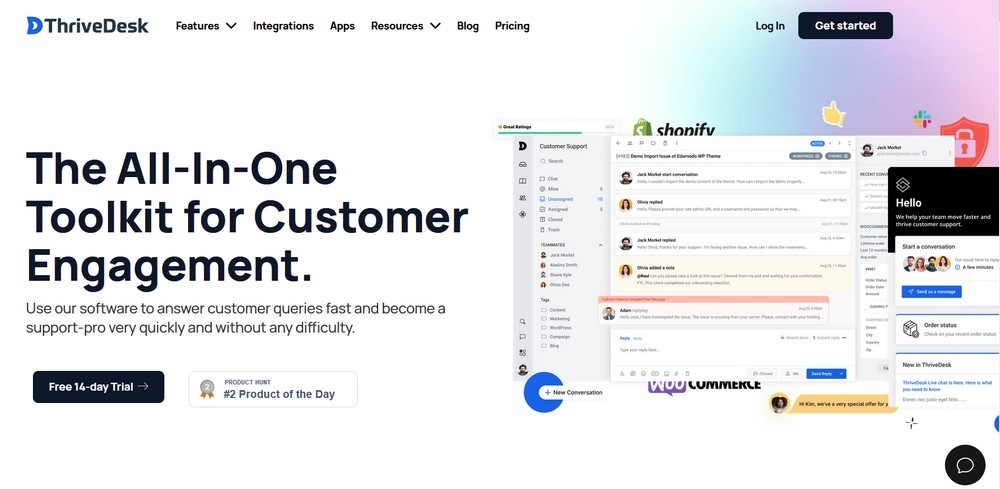 ThriveDesk is the lightest live chat software specifically built for eCommerce websites.
You can reach more customers for your online store with a variety of built-in capabilities including instant reply, file sharing directly from the chat widget, emojis, integrations with your favorite services, reports for your eCommerce sales tracking, and monitoring.
Pros and Cons
| | |
| --- | --- |
| Pros | Cons |
| Efficient app integration support.You can access all your emails through the shared inbox.Automated replying from the knowledge base to keep things swift. | No quality mobile app support. |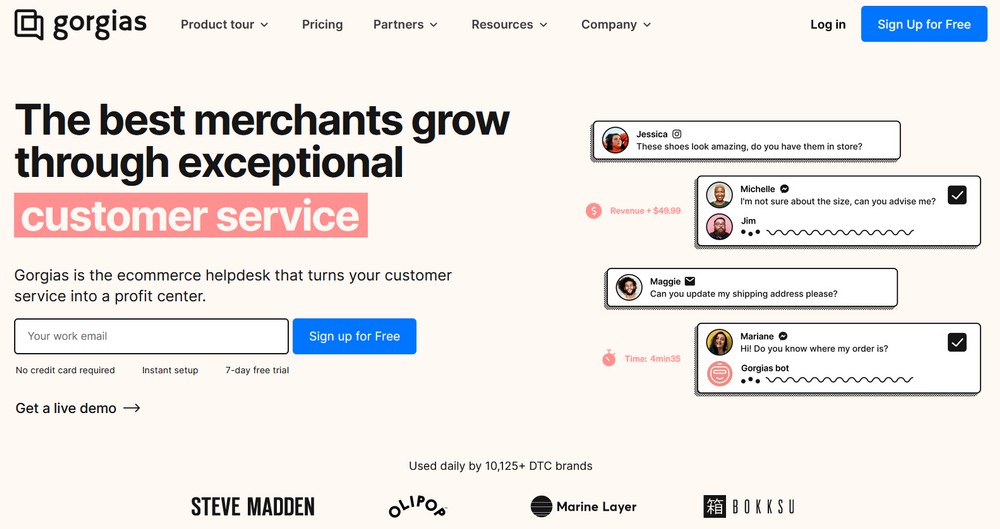 Gorgias is a one-stop shop for merchants who require customer support, customer service, and a live chat help desk all in one place.
The solution integrates seamlessly with Shopify, BigCommerce, Magento, and WooCommerce. It has a good list of features, such as email integration, autoresponders, ticket management, and intent detection.
Pros and Cons
| | |
| --- | --- |
| Pros | Cons |
| Easy integration with Shopify.Conversations with personalized tags.Intent detection (you can define customer intent such as shipping, refund, exchange, and so on). | The interface is difficult to use.There is a steep learning curve.Not the best option for eCommerce collaboration features — transferring a live conversation to another rep is difficult. |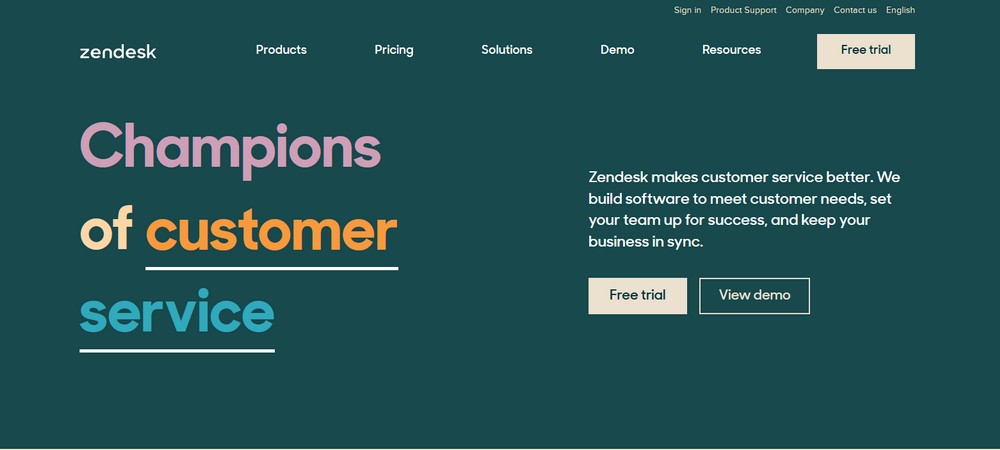 Zendesk is one of the largest and best-known CRM service providers with a comprehensive live chat solution.
With a real-time chat facility, Zendesk enables you to initiate targeted and customer behavior-driven chats, send files, ask customers to rate chats, change the company logo, and a lot more.
Pros and Cons
| | |
| --- | --- |
| Pros | Cons |
| Real time view of visitors.It can be used at several websites simultaneously.Lots more integrations.JavaScript API. | Outdated interface and chat widget design.The free plan has very limited features and is not much use.Advanced reporting is limited. |

WSChat is a highly efficient WordPress live chat plugin that allows website owners to communicate with their customers in real time. The plugin provides a user-friendly interface that can be customized to match website branding.
The WSChat plugin includes the ability to initiate chat sessions, the ability to view chat history, direct WooCommerce integration, integration with Google Dialogflow, live visitor monitoring and a whole lot more.
Pros:
Easily installed and set up with no technical knowledge required.
Can be customized to match the design of your website.
Supports real-time chat so visitors can get answers to their questions quickly.
Manage agent availability and provide offline messages.
Cons:
The free version of the plugin has fewer capabilities than the premium version.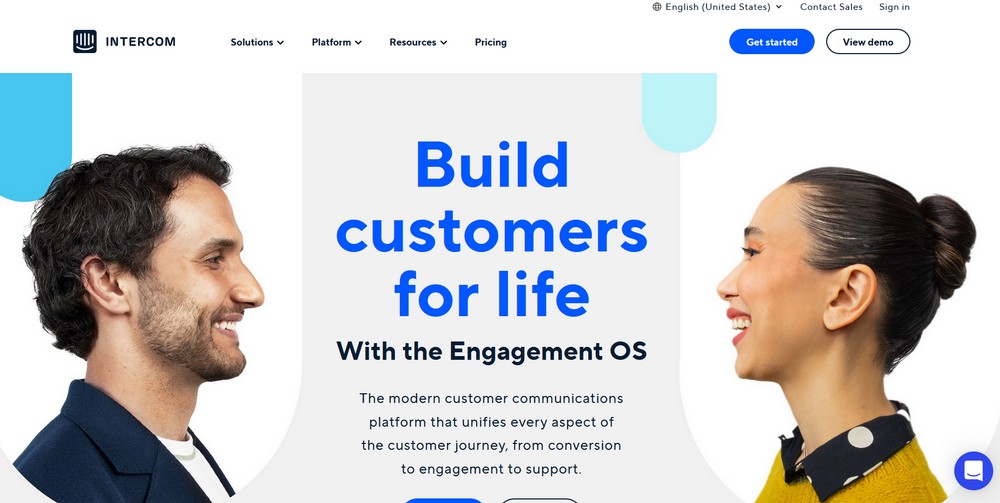 Intercom has been one of the best live chat applications around since 2011.
It is branded as the conversational connection platform that supports the development of customer relationships through live chat. With proactive chat, self-service choices, and human help, Intercom offers improved conversational support.
Pros and Cons
| | |
| --- | --- |
| Pros | Cons |
| Well-designed and user-friendly.Best-suited for enterprise-size organizations.The knowledge base is quite diverse.Robust API and lots of integrations. | Expensive for smaller businesses. |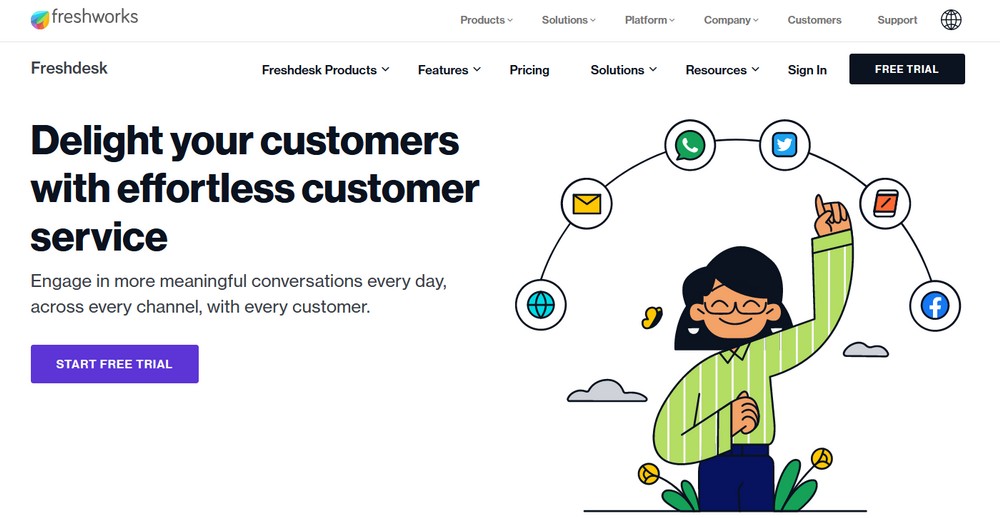 Freshdesk is a cloud-based customer support solution that helps you engage with customers through various channels.
It has some extensive features like campaigns, sales bots, integrated self-service, intelligent message routing, canned responses, customizable branding, and supportive integrations.
Pros and Cons
| | |
| --- | --- |
| Pros | Cons |
| Excellent customer service.Free plan is available.Integration with WhatsApp, Facebook Messenger, and LINE apps is simple.Tools for tracking productivity. | Expensive.Users report notification lagging.Lacks customization in the customer portal. |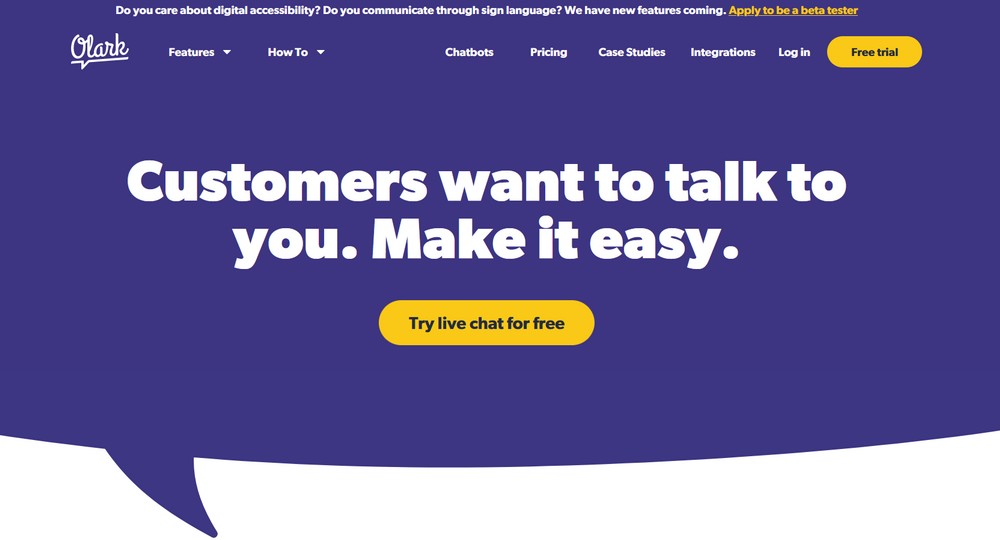 Olark is straightforward, highly customizable, and one of the cheapest options for small businesses.
With a bunch of automation features, you can change the colors, position, and shape of chat boxes, also add welcome text, and a customer support agent photo, including integrations with CRM software.
Pros and Cons
| | |
| --- | --- |
| Pros | Cons |
| The user interface is extremely easy to learn and to use. Advanced chat widget customization options.Affordable pricing.Lots of integrations. | Not suitable for multichannel messaging.No mobile app. |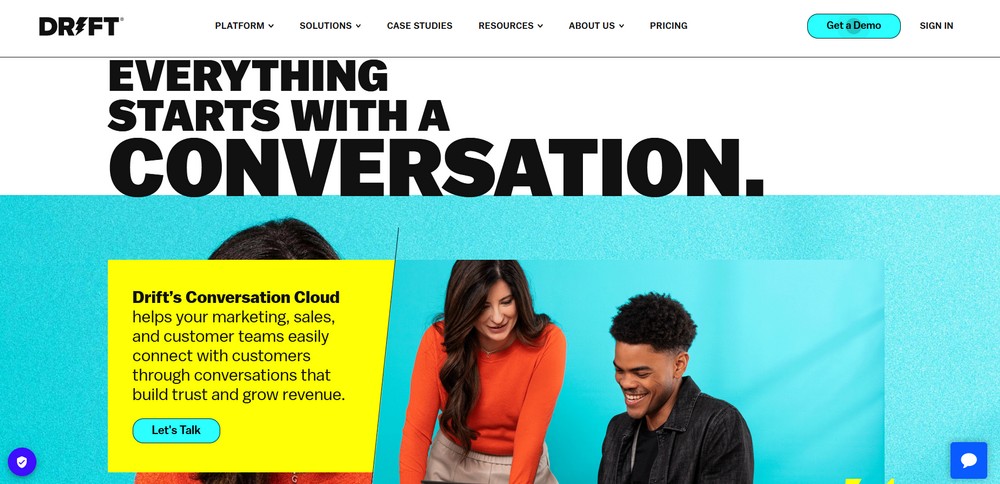 Drift is another live chat platform that focuses on generating and qualifying leads, and has a strong integrations library.
It is a powerful piece of software that offers conversation-like communication on websites including features like smart notification, email playbook, saved replies, enriched data, and activity history.
Pros and Cons
| | |
| --- | --- |
| Pros | Cons |
| Lead generation and productivity features. Reporting dashboard.Ease of use.Lots of integrations. | Cannot be used for multiple teams.Lack of pricing transparency. |
How to Set up Live Chat for Conversion
You should follow a proper strategy to gradually roll out live chat to your audience.
We're going to walk you through the entire process step by step.
Step 1: Limit Chat Support in the Beginning
If you put a chat widget on every page and show it to every visitor, you could get so many messages that you'll be overwhelmed.
Instead, choose the pages where live chat will be available first in a smart way.
Start small with a page that is important to your business and where letting customers chat will have the most impact. This could be your help center, pricing page, or checkout page.
Here are two things that might help you:
If you only want to help existing customers at first, try only showing the chat widget to people who are logged in.
If you want to get people to buy, start by only showing chat on your pricing page.
Step 2: Plan Ahead With Knowledge Base Articles and Saved Replies
A thorough knowledge base and a list of saved replies are two of the most important tools for speeding up chats.
Creating a collection of how-to articles and guides that show step-by-step how to do common tasks in your product. It should include videos, screenshots, GIFs or a combination of both. Did you know you can turn MP4 into GIF?
Saved replies can save you time if you are asked common questions.
Instead of typing the answer every time, send the perfectly written answer you saved for questions you knew they would ask.
Step 3: Make Sure Customer Information Is Easily Accessible
Being able to access information about your customers will help you have a better conversation, whether it comes from your CRM, a product analytics tool, or your help desk.
Customer information not only makes it easier for your support staff to help customers, but it also gives you an edge before you talk to a customer who is unhappy.
Step 4: Offer Chat Support Only When You Can
You should set the right expectations for your audience about when you'll be available and how to reach you when you won't be. A lot of business owners think that to offer chat, you have to be available all the time.
That's not true.
Look at how many people are using chat at different times of the day and how many customer service agents are available.
When most customers are online and visiting the site, chat with them. When the number of chats is low, you can move chat agents to other projects.
Also, keep in mind that some problems need to be looked into more deeply. Your customer service team should know how to handle different kinds of problems through live chat.
Don't waste your time or the time of your customer.
Step 5: Promote Live Chat As Your Preferred Support Channel
Start removing your phone number from pages where there is a chat widget. Promote chat as the best and quickest way to get help.
You have a lot of control over chat support, which is its best feature. You can plan to add chat depending on how many people you have on your team and how many people visit your website.
How busy your team is on chat is up to you alone.
As your team gets used to chat, you can let more and more customers use it
How to Offer Better Customer Service Through Live Chat
There are a few things we recommend to enhance the customer experience when you use live chat.
Train Your Support Team
You should ensure your support team is well-versed in all your products. Agents should also be aware of and comprehend the operation of the live chat platform.
Practice mock chats to improve your preparedness. Mock chats as initial training will assist your agents in becoming acquainted with some FAQs and issues that your customers face.
Make certain that your agents have strong writing and communication skills. A live chat agent must be better at writing than any other type of customer service representative.
Make sure your agents have an engaging and friendly personality. Encourage them to exhibit friendly personality traits that will help them establish a positive customer connection and effectively move to the solution.
Response Times
Make sure your response times are as short as possible. Train your live chat agents to have multiple conversations at once, and keep the conversations short but helpful. Typing skills are extremely useful.
If the chat cannot be answered immediately, inform the customer, so they do not feel ignored.
Remember that the longer a customer waits for your response, the more likely it is that they will leave a negative review.
Keep Chat Visible, but Not Distracting
Assume a customer decides they have a question, require assistance, or have an issue that needs to be resolved. What happens next?
They shouldn't have to waste time searching and scrolling through your website in order to find a representative.
The live chat feature must be easily accessible, or it will be ineffective. The best way to accomplish this is to include a live chat popup in the bottom right corner of your page.
It should not appear in such a way that it interferes with their website browsing experience. This may cause visitors to avoid initiating chat even when they require it.
Provide Transcripts
A website live chat service that allows you to access transcripts of your chats with website visitors is a must-have feature.
You can send the chat transcript to the user in order for them to keep a record of their interactions with your company, as well as send a copy to your email.
Use the transcript to segment leads based on the conversation you had with them. Then, to nurture them, create the necessary email campaign.
This saves time, improves the effectiveness of your sales process, and shortens the time it takes to close sales.
By paying attention to common words, phrases, and questions, you can better understand your website users' thoughts, problems, and behavior by collecting chat transcripts.
You can use this data to improve your product or service and create more effective marketing campaigns.
Perform Surveys
Using surveys cuts set-up and administration costs significantly. You have the option of conducting a survey before and after each live chat session.
A pre-chat survey can help the agent route the customer while also providing some basic information.
Use pre-surveys to get answers to your customers' questions as soon as possible.
A post-survey gives you the information you need to improve your customer service.
Final Words
Live chat is an effective bridge between customers and businesses. By incorporating live chat in your website, you can appear more approachable to your audience and your company can gain a competitive advantage over others in the market.
You can also interact with customers as they move through your live chat sales funnel in real time.
Furthermore, sales chat software allows you to approach visitors and tap into their thought process by understanding their browsing behavior.
In short, live chat allows your customers to eliminate any customer support hiccups that may be delaying things for them.
It even allows your operators to provide a solution that allows customers to make a decision faster.
Use chat wisely and your business is sure to see positive results!
This is a guest article contributed by Parvez Akther.
Parvez is the CEO & Founder of ThriveDesk. He loves to help other entrepreneurs build startups by sharing his own experiences and knowledge.