Want a 10% – 30% boost in revenue? Consider adding Order Bumps during checkout.
It's common to come across offers at the very end of your checkout out page. For instance, if you are purchasing trekking equipment, you may be prompted to buy a bag pack just before checkout.
On average, customers increase 30% of their average order value by using order bump.
These offers typically complement your initial order(s). In some cases, to incentivize the purchase, the offer product may come at a particular discount.
Well, this is an Order Bump. With CartFlows, Order Bumps can be added to an existing order by just enabling it.
You could display an Order Bump anywhere on the checkout page. While it's ideal to have it just before the checkout, the Order Bumps can be added after the customer details, before the checkout form, after the order details, or even after the payment details.
Smart shop owners add an additional offer on their checkout page because they convert 10% – 30% of the time. With CartFlows, you can add order bumps to your checkout pages. And is a great way to increase the average order value.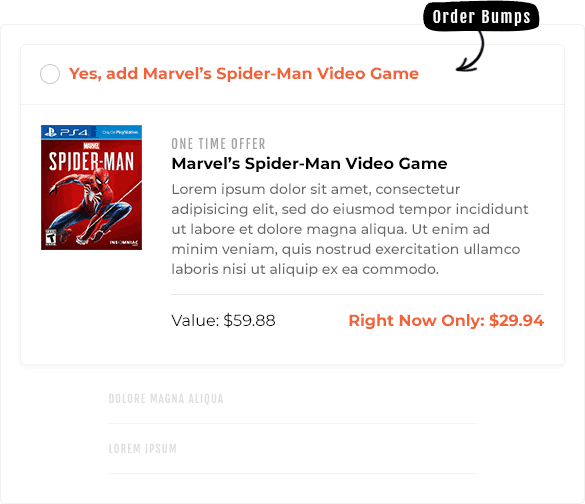 CartFlows Order Bumps are Perfect for:
Let CartFlows make eCommerce easy and more profitable for you.