As a WooCommerce store owner, you would probably agree that it takes a lot of effort and resources to get new visitors to your online store. All that hard work would be a waste if potential customers leave their carts without making a purchase.
This is why you should pay a lot of attention to cart abandonment.
Every time a site visitor abandons a cart filled with products they added, your business is missing out on potential revenue.
This is a major problem in the eCommerce space.
In fact, according to data from the Baymard Institute, the average shopping cart abandonment rate across all industries is 69.57%. It's even worse on mobile, with a whopping 85.65% cart abandonment rate according to Barilliance.
Irrespective of the size of your business, that's a lot of money to let go of.
If you're going to get the best return on investment (ROI) from your store, it's imperative that you deal with cart abandonment.
In this article, we'll start by digging deeper into why cart abandonment is a major problem for eCommerce businesses. We'll then talk about the major reasons it happens.
Finally, we'll share some proven tips for reducing your WooCommerce store's cart abandonment rate.
Let's get to it!
Why Is Cart Abandonment a Major Problem?
Put simply, abandoned shopping carts equal loss of potential revenue. The higher the cart abandonment rate, the bigger the loss for your business.
If your cart abandonment rate is the market standard (about 70%), it means you're losing $700 for every $300 of revenue.
Considering how much you might have spent to get customers to check out your store, this is a major loss!
When you look at the bigger picture, the numbers get even scarier.
For example, a FinancesOnline report reveals that;
Online retailers worldwide lost $4.6 trillion due to abandoned shopping carts in 2021 alone.
Interestingly, $260 billion of this sum was recoverable.
And of these retailers, eCommerce brands lost $18 billion.
If you thought these figures were bad, then you should also know that cart abandonment has gotten worse over the years.
Online stores studied by Statista experienced a significant spike in cart abandonment between 2006 and 2020, from 59.8% to 69.57%.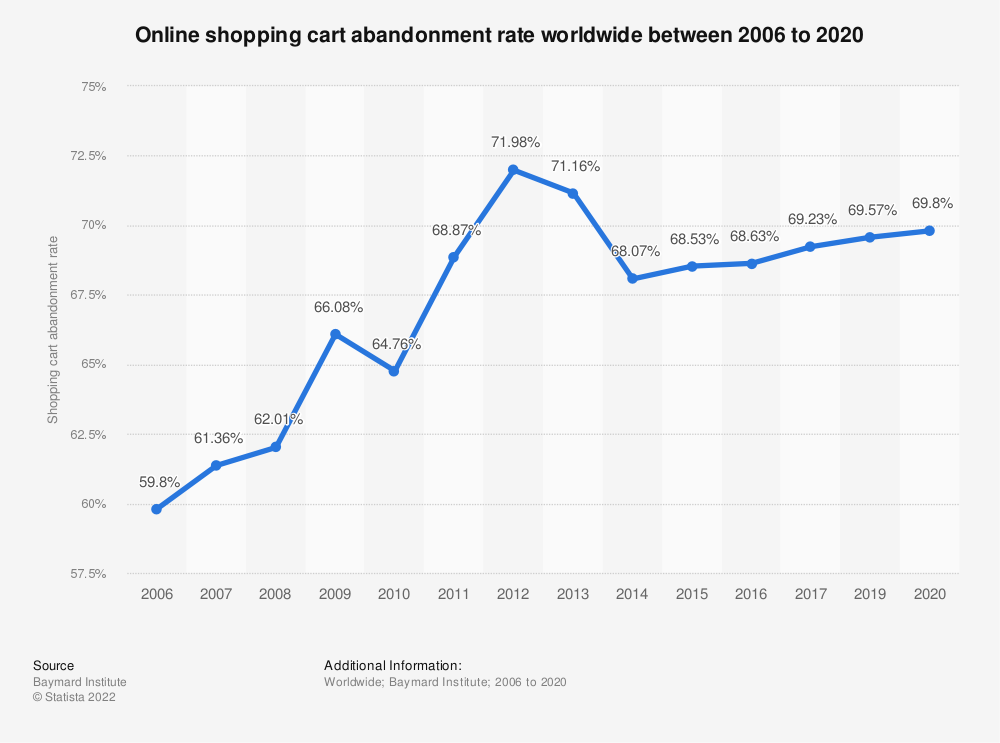 Considering these figures, it's clear that tracking cart abandonment and working efficiently to reduce it can be a major game-changer for your business.
If you're not yet sure why you should be working to reduce cart abandonment, then you're probably not actively tracking your site's business metrics.
You can change this by connecting Google Analytics with WooCommerce.
One thing is sure. Cart abandonment is inevitable.
Different customers abandon carts for different reasons. And some of those factors are beyond your control. For example, a customer may just be window shopping or simply decide not to buy.
Identifying the key factors that cause cart abandonment and working to minimize them should be your primary focus.
After examining real data from real WooCommerce stores, we've come up with a list of the major reasons why cart abandonment happens.
Why Online Shoppers Abandon Carts
One of the keys to maximizing conversions in your WooCommerce store is to see things from the shopper's perspective.
Doing this helps you understand their pain points and reduce them as much as possible to deliver a better experience overall.
Granted, every eCommerce store is different. But knowing some of the most popular reasons for cart abandonment can help you identify which factors apply to your business case the most.
After examining sites we own and comparing our results with 4329 responses to a Baymard Institute survey, we came up with this list of the 6 key factors behind cart abandonment.
Unexpected Extra Costs
Whether offline or online, money is always a major factor when it comes to shopping. A typical online buyer compares several options before finally deciding that your product offering is a good deal.
If they get to checkout only to discover unforeseen costs, this can be a deal-breaker for many people.
The extra costs can come in the form of shipping costs, tax, international customs duty, or other unexpected fees.
In most cases, if these costs are significantly high, the buyer is tempted to reconsider their options.
In extreme cases, some customers may even feel you're being manipulative. This single reason is responsible for almost half of all abandoned carts.
No Guest Checkout
Another issue some online shoppers find it hard to keep up with is the need to create an account on every site they want to buy from. Many just want to enter their payment and shipping details and be done with the purchase.
Forcing accounting creation or user registration adds an extra step to the checkout process. Some consumers see this as an extra source of friction and choose to abandon the products they've added to the cart.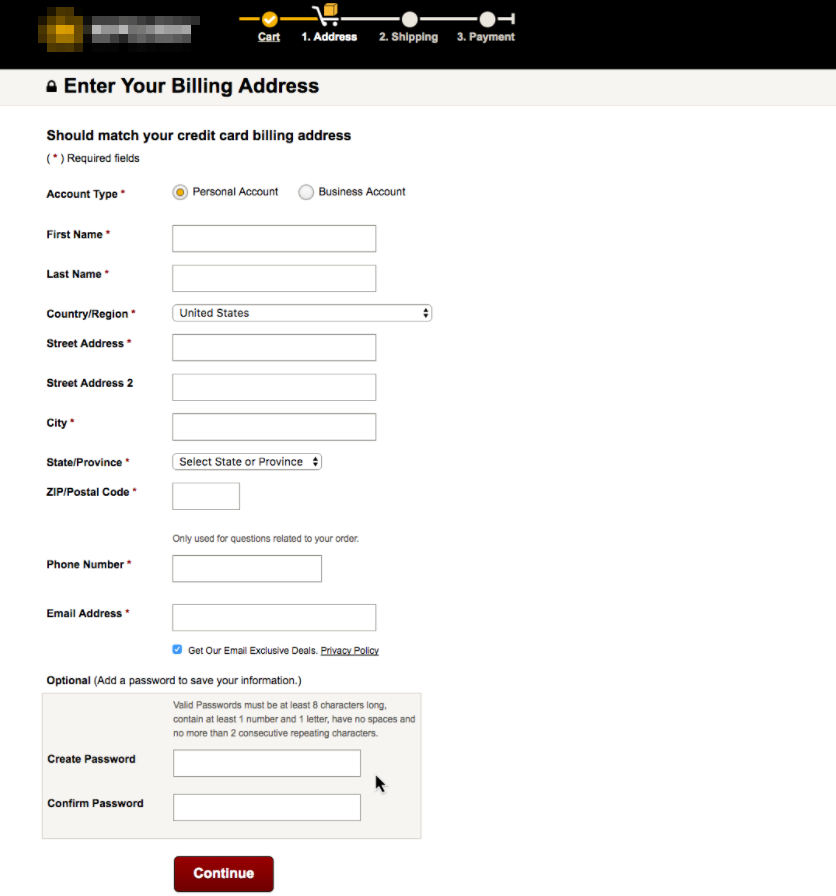 24% of cart abandoners said this was the reason behind their action. Fixing this problem can improve your conversion rates significantly.
We'll show you how to do this later on in this article.
Unoptimized Checkout
Similar to forced account creation, unoptimized eCommerce checkout is another major factor behind cart abandonment. It impacts the shopping experience and wastes the customer's time.
Many online shoppers have a low attention span and simply want to hurry back to the rest of their day's work.
One of the major indicators of an unoptimized checkout process is the need to visit multiple pages before completing a purchase.
If checkout is lengthy, complicated, and requires unnecessary details, your customers are less likely to follow through.
If the buying process includes more than 3 pages or sections, you're leaving money on the table.
Security Concerns
Lack of trust is a major issue to bear in mind as well. A lot of internet users are very skeptical about entering their card info or other financial details online. They are well aware of prominent cybersecurity threats.
If your brand checks out on all other factors but doesn't look credible, a buyer may still refuse to complete the order.
Payment security is a major conversion factor in eCommerce. If your site contains evident design flaws, outdated content layouts, low-quality images, or lacks an SSL certificate, your visitors may find it difficult to trust your brand. The market is full of cheap SSL providers, where you can choose the best one for your website.
Using unpopular payment methods can also lead to more suspicion. Customers are generally more comfortable with widely accepted payment gateways that they've also used in the past.
Slow Delivery and Limited Shipping Methods
What about extended delivery time and other shipping-related issues? Shipping has always been a major source of headache for digital retailers and it plays a major role in cart abandonment too.
You can easily reduce your cart abandonment rate by offering fast delivery while keeping shipping costs at the barest minimum possible. This often requires adding multiple shipping options.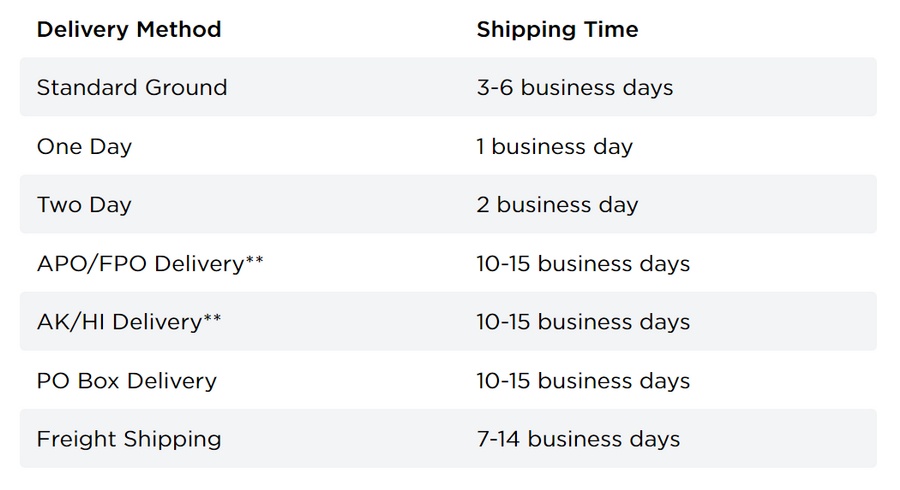 With a variety of shipping methods available, your customers will feel more in control and can always decide on the best bargain for their location.
It's also important to bear in mind that some shoppers are comfortable paying a premium price to get expedited shipping.
Website Performance Issues
The last factor we'll consider is your site performance and every other related technical issue. A customer experiencing consistent website errors and crashes when trying to navigate your store will likely think twice before completing their order.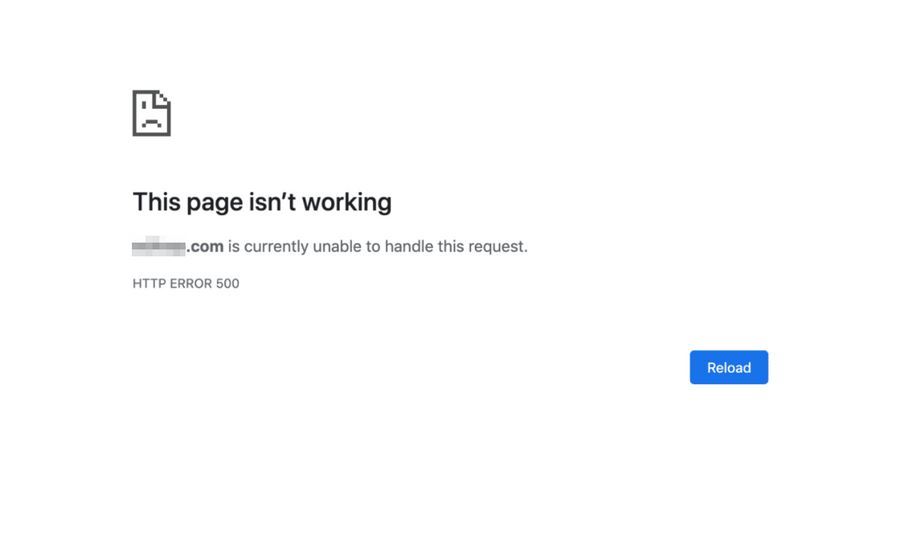 You should also pay close attention to your checkout page's code and your average page load times. If a potential buyer has to wait to see their cart or view product pages, their customer experience will be negatively impacted.
It also makes sense to check out what your competitors are doing. Your potential customers may be abandoning their carts because the competition offers better products, product features, pricing, or even shipping options.
Now that we know the key factors behind cart abandonment, let's discuss actionable tips for reducing the rate at which it happens.
20 Top Tips to Reduce Cart Abandonment
Optimizing your store to reduce cart abandonment rates is not rocket science. A few best practices here and there and you can start maximizing your revenue potential in no time!
Most of these tips can be implemented easily and in just a few clicks. We've used all of them in the past and the results have been remarkable.
1. Disclose All Fees Upfront
One good way to start retaining your cart abandoners is to ensure you eliminate any unpleasant surprises.
We've already established that hidden or unexpected costs are responsible for almost half of all cart abandonments. If you can eliminate this key factor, you not only get to slash your cart abandonment rate by half.
You also gain the buyer's trust and can expect return purchases.
To beat this, you may want to include every pricing information possible on your product pages. This will help your customers compare products from other competitors faster.
If you're keen on driving up the order value during checkout, you can do this with cross-sells and upsells.
This method ensures you're not forcing any extra costs on the buyer. But with smart and personalized product recommendations, you still maintain a high chance of driving up your average order value.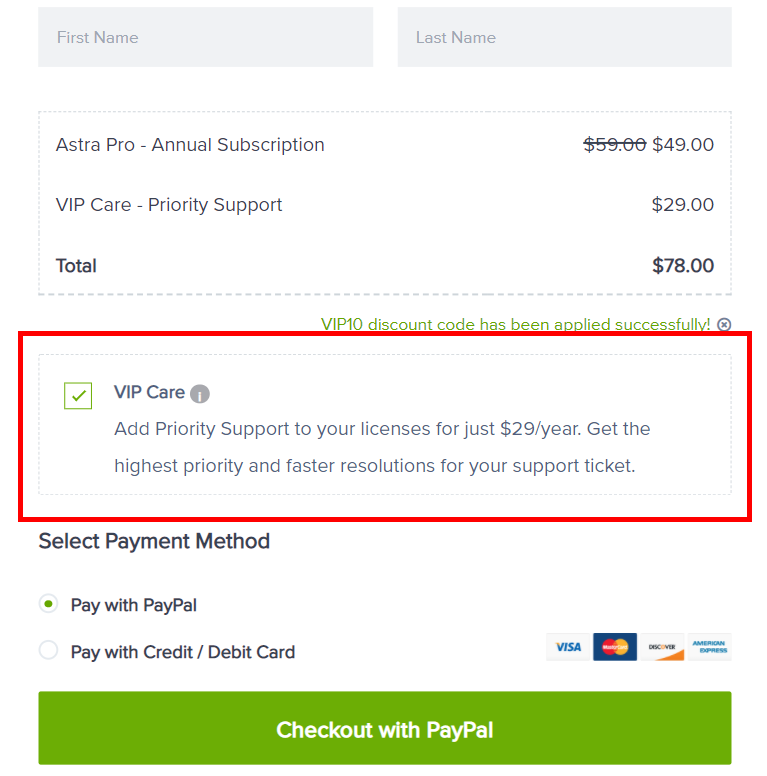 Granted, there are certain fees like country-specific taxes or shipping fees you cannot add to the product page. In such cases, such information should be made clearly visible on the first checkout page.
Even better, WooCommerce allows you to add a shipping calculator within your shopping cart. This makes calculating all costs upfront much easier. If possible, you should also consider offering your customers a flat shipping rate.
2. Allow Customers to Complete Checkout Without an Account
Guest checkout is another powerful feature you can use to lower your cart abandonment rates.
Most first-time customers appreciate the possibility of checking out without having to create a user account.
Enforcing user registration can slow down the checkout process and turn away customers with doubts about your brand or product.
When a new customer has to fill in account registration details and verify their email address before returning to their cart to complete a purchase, they may already be on their way to an alternative.
You can easily enable guest checkout in WooCommerce without using any additional plugin.
To do this, navigate to WooCommerce > Settings > Accounts & Privacy and check the Guest checkout box.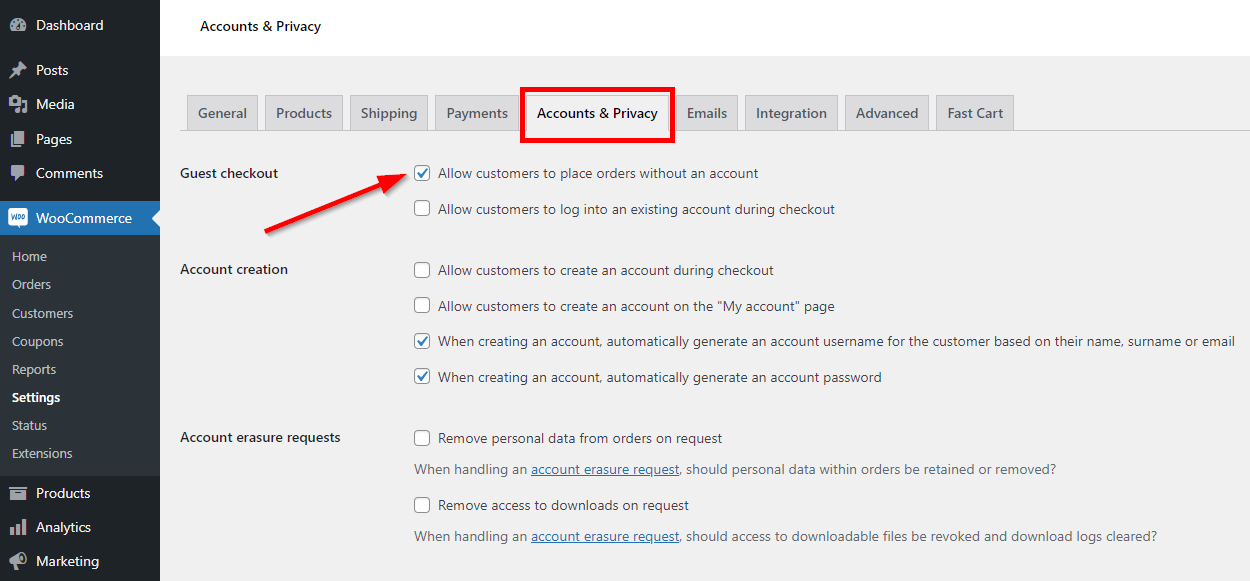 The best way to make checkout straightforward while retaining all customers' information is to leave account creation for post-purchase. This makes it easy to turn first-time customers into return customers without putting your first purchase at risk.
If the timing is right and the consumer is feeling great about your brand, account creation will come easy. Whenever you finally ask your customers to create an account, make sure to make the process as simple as possible.
Also, you may want to give them a good reason or propose a certain value creating an account brings.
For example, offering a 20% discount on their next order will be an ideal incentive to not only fill in their account details but also make a future purchase.
3. Speed up the Checkout Process
The same logic applies here as well: the faster the checkout, the lower the abandonment rate.
To speed up checkout, you'll need to eliminate as much friction as you can. This may involve getting rid of unnecessary pages and paying closer attention to navigation (UI/UX) elements.
Your checkout process is not fast enough if:
You're asking for information the buyer has given you previously.
You're using a slow payment gateway.
The customer sees 3 or more checkout pages.
They have to visit a page in a different browser tab during checkout (e.g. redirection to email confirmation).
If you want to offer buyers the best checkout experience possible, consider offering one-click shopping and one-page checkout.
One-click shopping allows customers to shop by simply clicking a 'Buy Now' button. You can redirect them to their cart after this click.
With one-page checkout, they can then make changes to their cart items and complete payment without leaving the page.
You can implement one-page checkout with a powerful WooCommerce conversion plugin like CartFlows.
Even if you want to use a multiple-page checkout process, it's better to integrate a sleek progress bar to help your customers know the stage of the order process they're at.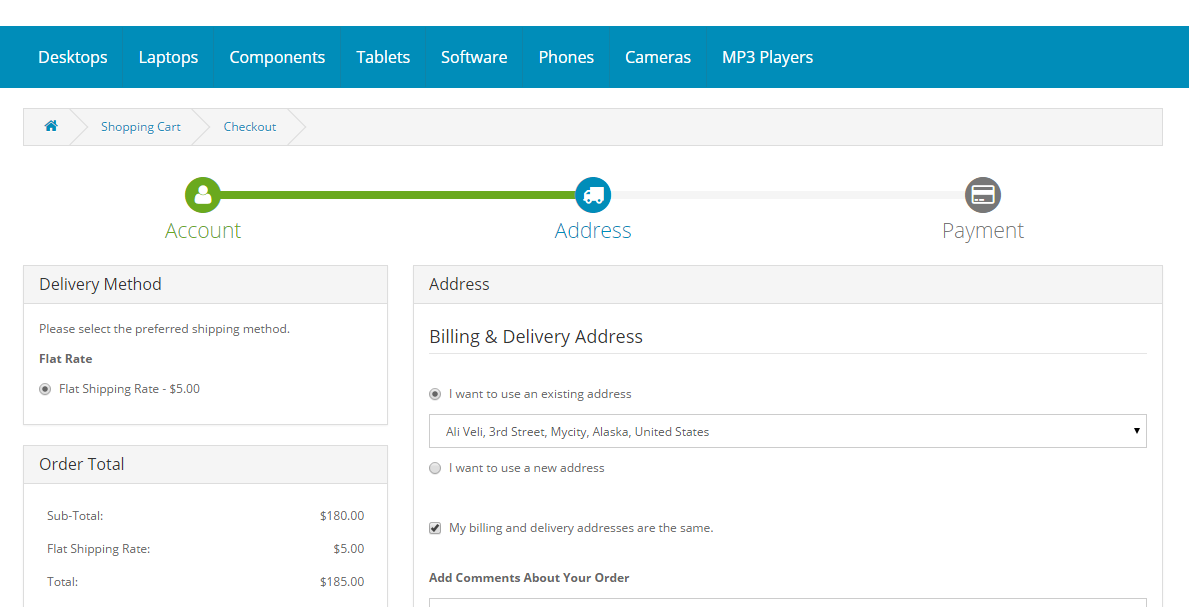 4. Offer Discounted Shipping and Other Types of Discounts
Discounts can work magic when it comes to sales and conversions. Of course, it'll be great if you can offer your customers free shipping. This is the most reliable way to ensure your customers don't get unpleasant surprises.
But if this is not possible for whatever reasons, then discounted shipping can also come in handy. For example, you can offer express shipping for the price of standard shipping.
You can implement discounted shipping or any other form of discount based on the customer's cart total.
When you do this, display the discount information on your home page or shop page's header banner. This can incentivize your customers to follow through with checkout and also increase their order value to meet the discount requirement.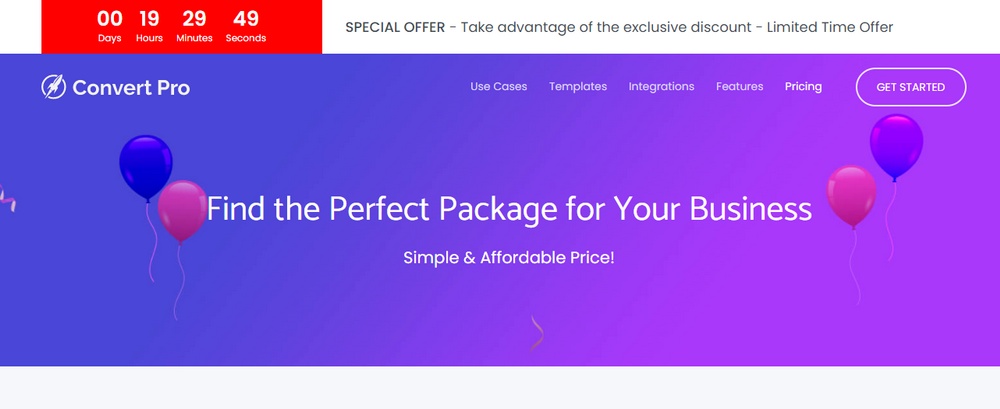 Similarly, when offering discounts, make sure customers don't have to go searching for coupon codes. Discount codes are hard to keep track of and having to search for them can be quite frustrating.
Creating auto-apply discounts is a good way to give your site visitors pleasant surprises. Powerful WooCommerce coupon plugins like Advanced Coupons can help you take care of that.
5. Use Time-Limited Offers
Attracting a customer who thinks they have a lifetime to enjoy a deal to commit to a purchase can be quite difficult. If you want to stop a store visitor from leaving their curated products in their carts, you may want to introduce a sense of urgency somewhere in your store.
Let them know your offer won't last forever.
This strategy is visible in the Convert Pro header banner from the previous section. The promotional offer in the banner includes a countdown timer. The timer helps to drive your customers to make a purchase decision and empty their carts faster.
You can choose to implement a static or dynamic countdown timer. The static countdown timer shows a sale or promo with a fixed end date and time. But the dynamic countdown shows the timer to every customer for the same amount of time from their first site visit.
Better still, you can combine urgency with scarcity. Offering a time-limited discount on a limited-stock or exclusive product gives the customer the extra motivation they need to complete their purchase.
6. Gain Trust With Customer Reviews and Trust Seals
Online shoppers are very cautious, especially with the number of online scams around.
Getting a first-time buyer to add their financial credentials to your site can be quite challenging.
You can easily boost trust with any site visitor by adding trust seals to your WooCommerce store.
Trust seals could be small badges from third-party financial security compliance services like Stripe, PayPal, and McAfee.
Or it could just be a simple money-back guarantee, customer ratings, or active user and overall download count. Otherwise, you can show relevant badges, awards, and accreditations too.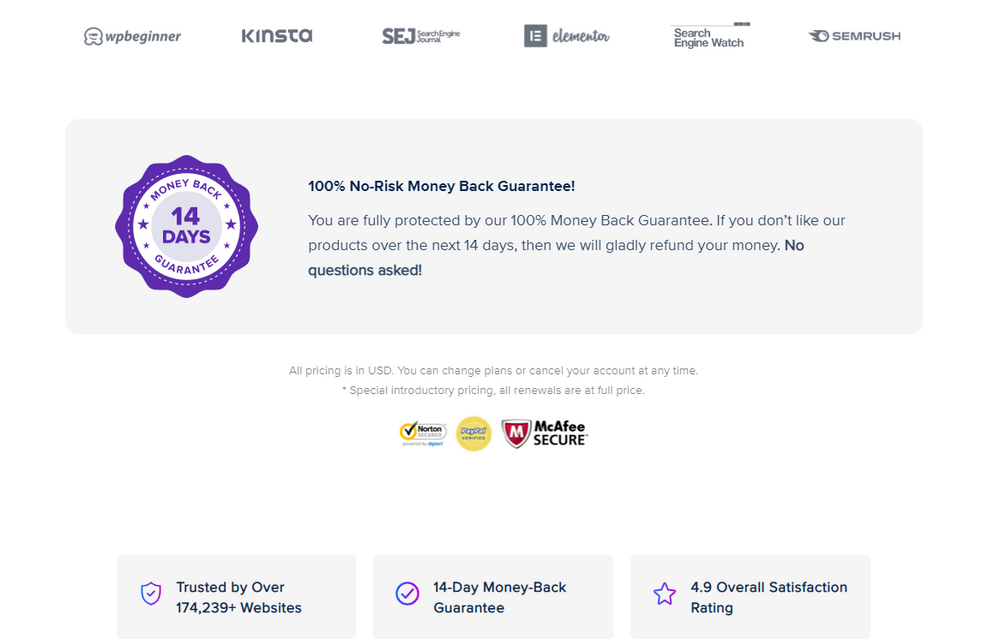 Another thing you could add to your pages to boost trust is social proof.
A high percentage of online users trust reviews from other users who have bought a particular product in the past. People feel more comfortable buying products other people use and speak positively about, which is why social proof works so well.
There are several ways to integrate social proof in your store.
For example, you can embed Google reviews, customer testimonials, and ratings on your website or simply display real-time notifications as customers buy your product. This is also a good way to use the fear of missing out (FOMO) to convince hesitant buyers.
7. Create Special Offers for New Visitors
Customer targeting is a major marketing technique that can help you tackle cart abandonment efficiently. One type of customer you should be actively targeting is your store's first-time visitor.
This group has probably had no contact with your brand before and often needs the most convincing.
In general, new store visitors also make up a significant portion of your cart abandoners.
Even when they get to add products to their cart, the probability of getting a conversion is significantly lower than with a return customer.
One of the best ways to convince them to complete their first purchase with you is to offer them a special discount or promo.
There are a good number of WooCommerce conversion plugins like Convert Pro you can use to trigger a promotional offer exclusive to first-time store visitors only. You can then display these offers on as many of your store's pages as you like.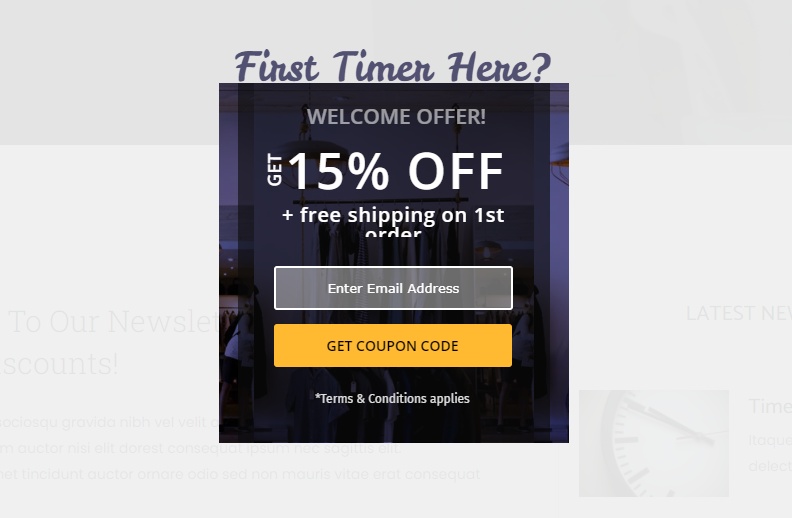 This type of targeted discount offer often goes a long way in convincing new store visitors and lowering your cart abandonment rate.
8. Emphasize Brand Quality
Customers also want to be sure that they're getting the best value for their money. You can easily guarantee this by emphasizing quality and building a solid brand reputation everywhere.
You can portray your brand in good light and convey quality using any of these tips:
Be intentional about your copy. Using the right words in your website copy can help you effectively communicate quality to your store visitors. You can use vocabulary like "value for money" and "best quality" instead of "inexpensive" and "premium". It's important to ensure that your tone and choice of words communicate the right emotions to your target audience while staying consistent with your brand.
Use only top-notch photography and high-quality visuals. Irrespective of your niche, high-quality visuals always portray excellence and good quality. No matter how small your business is, investing in professional photography will always pay off.
Promote your brand as a subject matter expert. Another way to showcase quality is to position yourself as an authority in your niche. You can do this by investing in a blog or dedicating a page to showcase your activity in the industry.
Sometimes, quality is also in the tiniest details. Some customers can be really good at nitpicking. It might take just a website design element not properly aligned or a typographical error in your copy to break the deal.
9. Send Follow Up Emails
No matter how optimized your cart page, checkout process, and entire site are, some customers will still abandon products in their carts. When they do, you should be sending them reminder emails.
Abandoned cart recovery emails are said to have an open rate of close to 50% and a conversion rate of about 2.4%. Quite a substantial ROI for a single marketing channel!
You can get even better figures by sending your customers up to 3 of these emails. This could also be helpful for customers who originally planned to complete a purchase but got distracted.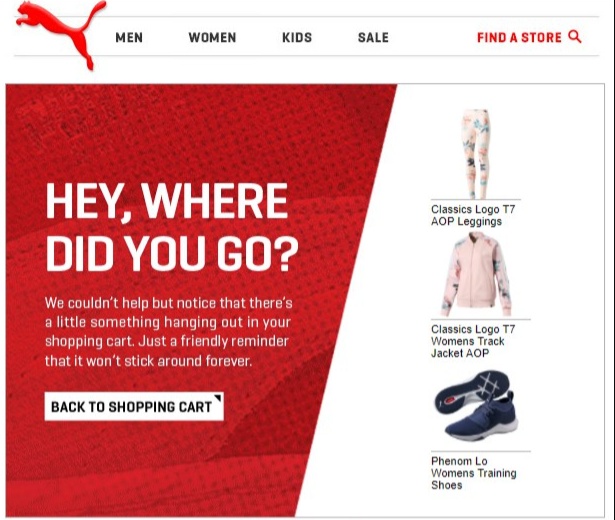 Of course, you'll need to pay attention to important aspects of email marketing like optimizing your email's subject line and body.
In the body of the email, you can boost your conversion rate by suggesting possible alternatives to the product in their cart and designing the email to replicate your store's cart page.
With a plugin like CartFlows, you can schedule automated cart recovery emails using ready-made templates, personalize them, or even add coupon codes and direct checkout links.
10. Invest in Retargeting Ads
Another highly effective way to regain your cart abandoners' attention is to use retargeting ads. This type of ad helps you re-engage them and make them compelling offers.
Though retargeting ads have a reputation of being very efficient, implementing and managing them properly often requires a lot of effort and a decent budget.
If you're running multiple retargeting ads, it's important to constantly weed out the low-performing ads. Identify and focus on the ones driving the most traffic back to your store.
You may also want to do a lot of A/B testing. This will require some manual work, but you can still automate a good deal with a 'pixel-based' retargeting strategy.
Pixel-based retargeting anonymously tracks customers who have abandoned a shopping cart using browser cookies.
You can then use this information to market to them in the future. The best tool for implementing pixel-based retargeting in WooCommerce is Facebook Pixel.
Another retargeting approach to consider is sending push notifications to your customers via the web.
You can use this method to display a message within your customer's browser after they've left your store. PushEngage is a good tool that allows you to set up this type of retargeting.
11. Leverage Exit-Intent Popups
Exit-intent popups are also very efficient in keeping your store's cart abandonment rate down.
To set them up, you'll need software that tracks your site visitor's mouse activity. Once their mouse leaves the browser window or tab, the software will automatically trigger the popup.
Some reports show that you can recover between 3 and 8% of abandoned cart sales using this strategy.
You can use a powerful popup plugin like Convert Pro to set exit intent popup.
The plugin tracks exit intent and other important behavioral patterns. It then uses this information to show a popup when necessary.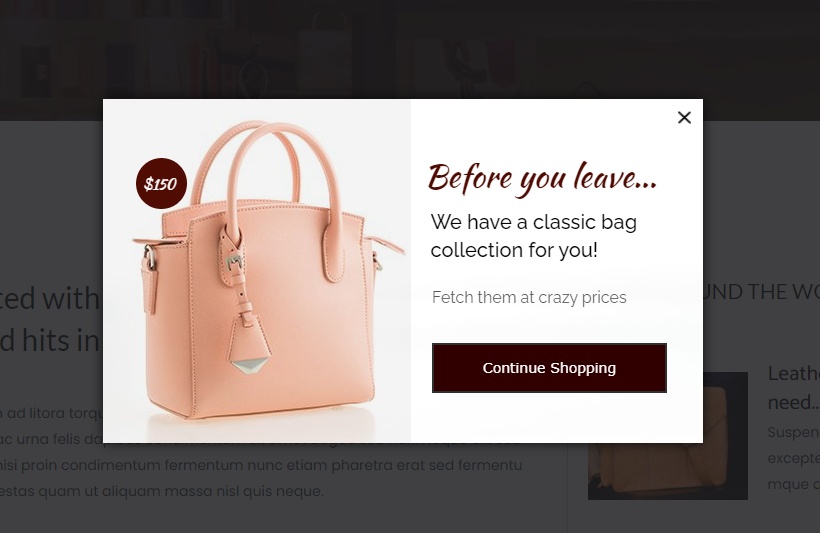 You can optimize your exit-intent popup by:
Showcasing the most popular products in the customer's cart
Displaying other similar trending items
Redirecting the site visitor to an interactive page on your site to learn more about your product or service offerings
Offering instant discounts or discounts for their next visit
Collecting information to build your email list
Whatever you do, remember the goal is to get the customer to rethink their decision to leave without purchasing their cart items.
Making them an irresistible offer should be the priority!
12. Offer Multiple Payment Gateways and Shipping Options
As we've highlighted earlier, financial security is key in securing purchases in online stores.
Another way to reinforce the notion of a secure online transaction is to offer multiple payment options. A typical online shopper will complete a purchase faster when they're comfortable with one or more of the payment gateways available.
Credit and debit cards are now a no-brainer when it comes to online payments.
You can accept card payments from different countries by integrating a service like Stripe in your WooCommerce store. The service doesn't require any setup fee and you'll only be charged a small percentage (2.9%) of each transaction.
But Stripe payments are not enough. Your customers could be more comfortable with other popular payment methods like PayPal, Amazon Pay, Google Pay, and Apple Pay.
Depending on your customers' geographical location, you want to add other local payment solutions like Venmo for the US, Paytm for India, and Paystack for Africa.
The same idea applies to shipping options. The more flexibility you offer your customers in terms of shipping carrier options, the higher your chances of conversion.
Shoppers generally want to pay less for shipping and still get their orders quickly. The shipping solution that delivers on this may vary depending on the location of the buyer.
Beyond shipping carriers, you also want to offer different modes of shipping rate calculation. Some of the options you can check out include table rate, flat rate, and flat rate box shipping.
You can check out some of our articles to learn more about WooCommerce payment gateways.
13. Optimize Site Performance (Especially for Mobile)
If you're still struggling with a high cart abandonment rate, then your site's performance is probably not well-optimized.
Site crashes and slow web pages not only cause you to lose potential sales but also give your brand a bad reputation. Long loading times also lead to higher bounce rates.
In the rare cases of a site crash or some downtime, a bit of humor and wit in the error page's copy can lighten the mood.
It will also be great to add some personality to the message or redirect the store visitor to other pages or products. A good example is this error page from Shopify.
You can use a Content Delivery Network (CDN) or a cache plugin like WP Rocket to achieve low latency when people visit your site from anywhere in the world.
But even with these easy-to-use tools, you should ensure you only add light and compressed images on your product pages.
Having a highly responsive and mobile-friendly site is also a key consideration in keeping your store's cart abandonment at the barest minimum.
Today, mobile eCommerce accounts for a whopping 72.9% of all retail sales online. So, if you don't want to lose almost three-quarters of your potential revenue, it's important to optimize your store's mobile experience.
14. Provide All the Basic Information Customers Need
When shopping, customers always have a lot of questions about your brand and your products.
The answers to these questions often decide whether they'll complete the purchase or not. If a buyer cannot find the necessary information they need easily, they may end up abandoning the cart.
The copy on your 'About', 'Pricing', 'FAQ', and product pages should ideally answer all the common questions your customers may have. From shipping to payment and other general issues, your store visitors must be able to find the answers they need quickly.
But in certain cases, your site's copy may not be enough.
This is why you need to add a contact number or form to your store for customers who need live support. Your contact details should be added to prominent locations of your site. And you should keep the average response time as low as possible as well.
Another great idea is to add a live chat feature to your site and ensure your team is always available to chat.
According to Comm100, this mode of support has a customer satisfaction rating of 82%. Popular services like LiveChat make it very easy to add this functionality to your WooCommerce store.
15. Include a Clear Return Policy
Talking about sharing important information, one key detail that can influence a customer's decision to buy is your return policy.
Every buyer wants to know what happens if they end up not liking the product they receive.
A comprehensive return policy can help to allay a lot of the typical consumer fears about making a purchase. Ideally, you should dedicate an entire page to your return policy and make this page easy to find.
The return policy page should answer questions like:
Which products are eligible for return?
Who pays for shipping when a product is returned?
How long does it take to get your money after a refund has been initiated?
How much time after delivery do customers have to initiate a return?
You also want to keep the content of this page as concise as possible. Add a summary at the top of the page and then address each question in easy-to-navigate subheadings or content tabs.
Product returns are bound to happen in eCommerce. It's important to always stick to your return policy when a customer finally initiates one.
16. Add a Wishlist or 'Save Cart for Later' Feature
A good number of shoppers switch between multiple browser tabs comparing different sites and their price offerings. If a buyer finally decides to settle with your store, you want to make it easy for them to find the products they were looking at before.
This is where a wishlist or 'Save Cart for Later' feature comes in handy.
If a customer has to search through a long list of multiple products each time they visit your store, your chances of conversion might reduce. When you allow customers to save their cart for later, you deliver them a significantly better shopping experience.
To further optimize the experience, you can show these "Save Cart for Later" prompts in your exit-intent popups.
This can add a unique touch other than the popular discounts and pitches online shoppers are now used to. You can also use this feature to encourage user registration in a subtle and less salesy way.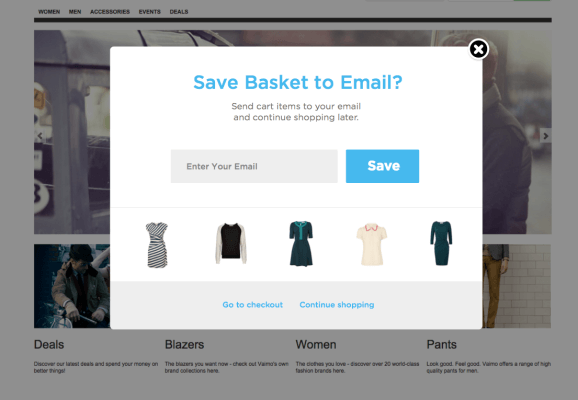 YITH, a popular WordPress developer, has two plugins you can try out to deliver these features: WooCommerce Wishlist and Save Cart for Buy Later.
17. Monitor Site Metrics
To maintain the best approach towards your store's abandoned cart recovery efforts, you need to constantly track your site's user activity and performance metrics.
This helps you know what's working and what's not. WooCommerce analytics is highly important for making effective data-driven decisions for your business.
Many WooCommerce store owners rely on guesses and general best practices when choosing their abandoned cart recovery techniques. This approach can be quite unproductive and lead to low ROI.
For the best results, it makes sense to rely on actual data for your store. This helps you to stick to high-performing techniques that are properly fine tuned for your unique use case.
The best way to go about WooCommerce tracking is to enable Google Analytics in your store.
Though there are lots of solutions for integrating Google Analytics out there, we highly recommend MonsterInsights.
The plugin is an advanced reporting tool that helps you monitor everything happening in your store without writing any code.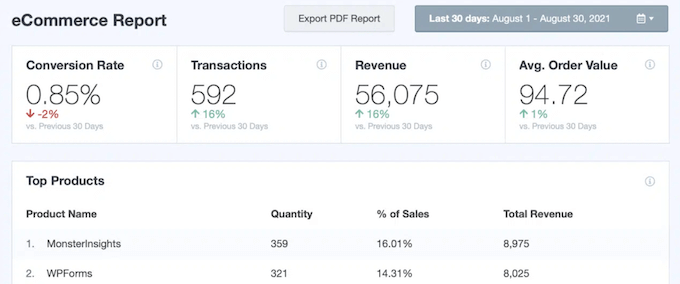 For example, you can easily learn which products are performing well and the average order value across your store. This can help you decide how to improve your marketing strategy to achieve lower cart abandonment.
18. Make It Easy for Buyers to Find Their Carts
Have you ever considered that some shoppers are actually abandoning their cart because they simply couldn't find it?
Some customers may not complete a purchase if they have to dig around before getting access to the cart page. You can eliminate this UX design problem by making it easy for users to find their shopping carts.
Apart from making the cart icon visible, you also need to put it in a location native to online shopping carts. This is often in the upper right corner of the page.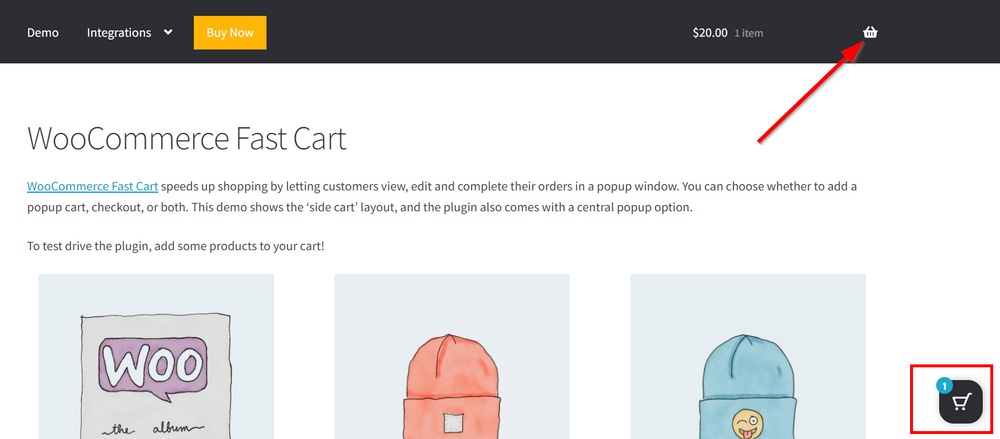 The default WooCommerce does a good job of helping your customers find the cart. But you can take things a step further by adding a floating cart or popup cart. A floating cart is a widget that appears at the bottom right corner of all your site pages.
On the other hand, a popup cart appears in the center of the page each time a customer adds an item to their cart.
They can then add or remove products, change the product quantity, and complete checkout right within the popup. You can use WooCommerce Fast Cart to implement both cart display options.
19. Use Personalized Messaging Everywhere
Another useful tip to bear in mind is to use personalized messaging in all your copy. An extra touch as simple as addressing your customers by their first name or location can go a long way in getting their attention.
Whether it's a cart recovery email, exit-intent popup, or a coupon offer, personalized messaging helps you communicate on a deeper level. And this often generates better results.
If you're looking for a powerful plugin to help you achieve this, Convert Pro is a great product to check out. You can use it to send targeted messages using cookies, device and page-level detection, and personalize your messages for logged-in users.
20. Get a WooCommerce Cart Abandonment Plugin
Finally, you can easily implement any of the tips we've shared above using a WooCommerce cart abandonment plugin. Cart abandonment plugins are specially designed to help you automate your abandoned cart recovery efforts and there are lots of them out there.
One product we highly recommend is CartFlows. The tool offers a lot of handy features you can use.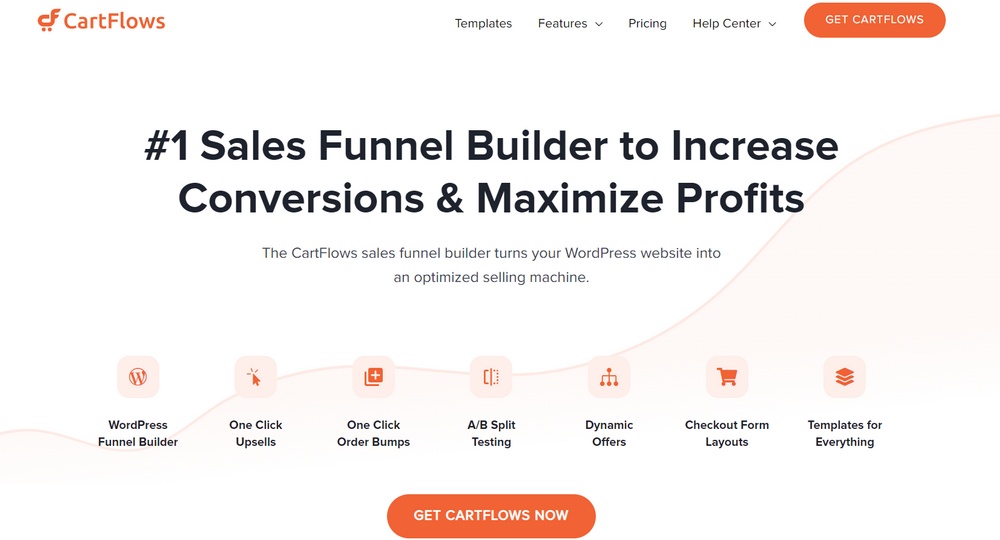 Apart from getting help with most of the tips we've shared above, the plugin is also a good funnel builder with ready-made checkout form layouts and A/B testing features.
WooCommerce Cart Abandonment FAQs
Here are a few fast answers to common cart abandonment questions.
What is WooCommerce cart abandonment?
WooCommerce cart abandonment is a common retail problem that happens when online shoppers leave products in their shopping carts without purchasing them. Some of the most common reasons behind cart abandonment include high unexpected costs, slow delivery time, and financial security concerns.
How do you recover abandoned checkouts in WooCommerce?
You can recover abandoned checkouts in WooCommerce by optimizing your shopping cart and store for better conversion. Some best practices for optimizing your store include disclosing all necessary fees upfront, offering discounts, and using social proof to boost trust.
Can you see abandoned carts in WooCommerce?
You can see abandoned carts in your WooCommerce store by tracking user activity. You can do this by integrating Google Analytics with WooCommerce using a plugin like MonsterInsights. The plugin offers other advanced eCommerce tracking features you can use to make better business decisions for your store.
What is the best plugin for recovering abandoned carts in WooCommerce?
The best plugin for recovering abandoned carts in WooCommerce is CartFlows. The plugin packs a lot of features that help you automate your abandoned cart recovery efforts. You can use it to fully customize your checkout forms, create order bumps with one-click upsells, and gain insight into your sales funnel performance.
Start Lowering Your Cart Abandonment Rate Today
Cart abandonment is a major challenge for eCommerce retailers worldwide. If you're not working hard to reduce the number of your WooCommerce store visitors who leave products in their carts, then you're missing out on a lot of potential revenue.
Online shoppers abandon carts for various reasons. But irrespective of the reason, there are certain best practices you can use to keep your customers engaged and convince them to make that purchase.
From being upfront about all your fees to speeding up checkout and using exit-intent pop-ups, most of these tips can be implemented easily.
For the best results, you can use a cart abandonment plugin like CartFlows to automate and reduce cart abandonment more efficiently.
We hope this article has helped you in dealing with cart abandonment in your WooCommerce store. If you need further help, kindly let us know in the comments section below.