Are you searching for the best WordPress eCommerce plugins for your online store?
Building an online store seems more accessible than ever, with plenty of software as a service (SaaS) products like Shopify, Wix or BigCommerce.
If you want full control over your store or don't want to be tied to a particular service, WordPress is the answer.
WordPress eCommerce plugins are designed to get your store up and running with very little cost or effort.
This article consists of the best WordPress eCommerce plugins you can use to set up your online store.
Each offers a range of functions and can be genuinely useful in eCommerce.
Before that, let's take a quick view of eCommerce and why you should build an eCommerce website.
What is eCommerce?
eCommerce is the process of buying and selling goods and services on the internet.
The history of eCommerce began when the first-ever online sale was made on 11th August 1994 by a man who sold a CD by the band Sting to his friend through his website NetMarket (an American retail platform).
This was the first example of purchasing a product online.
There are four major types of eCommerce models:
Business to Consumer (B2C): A company sells goods or services to an individual consumer. Example: Alibaba, ThomasNet
Business to Business (B2B): A company sells goods or services to another business. Example: Costco, General Electric and IndiaMart
Consumer to Consumer (C2C): A consumer sells a good or service to another consumer. Example: eBay, Amazon Marketplace, Etsy
Consumer to Business (C2B): Consumers sell their product or service to a business or an organization. Example: Google Adsense, Commission Junction, and Amazon Marketplace
Why build an eCommerce website?
The internet influences every aspect of our lives. We use it for entertainment, work, research, and for pretty much everything.
The generation who are well known to the world of the internet uses it to shop. Around 43% of shoppers use the internet and social networks to research products before purchasing them.
By 2024, the eCommerce revenue is estimated to be worth $476 billion in the USA alone.
Building an online store allows you to control every aspect of customer experience, from branding to shipping to customer self-service. You get to learn about the process and make an informed choice.
It's also relatively easy to set one up and doesn't cost much either, lowering the barrier to entry significantly.
What do you need to build an eCommerce website?
In order to build a reliable and secure eCommerce website, you must build upon your WordPress site.
These are the must have elements apart from plugins to build an online store:
Powerful WordPress web host
A web host is the place where your website is accessible from the internet. The host enables your website to be visible to everyone on the web.
You can pick any cheap hosting plan and get online without a second thought. But Google and other search engines prioritize the site's page speed as a significant ranking factor.
Visitors also want to experience fast and smooth performance regarding page load time.
If you want to show your products and rank on a search engine, you need to invest in reputable web hosting that delivers the speed you and your customers deserve.
Domain name
The domain name reflects your brand and your company and is your store's online name. It's the 'www.' name you type into a browser and choosing a domain name is important.
Domain names are an important part of setting up a store and requires a lot of thought and planning. This guide goes into domain names in a lot more detail.
An SSL certificate
eCommerce stores process private information such as addresses and zip codes and online financial transactions. Therefore the security of such a website is a top priority.
It's also a legal requirement in many countries.
Having an SSL certificate keeps user data secure and verifies your website's ownership. If your eCommerce website doesn't have an SSL certificate, customers are more likely not to make a purchase.
Most payment gateways require SSL certificates in order to work on a website.
Inventory
So, what will your eCommerce website be selling? Is it a physical product, digital product or an online course?
You need items to sell on your website. You can sell any (legal) kind of goods but you'll need a reliable supplier.
That's outside the scope of this guide, but is definitely something you'll need to consider.
Responsive eCommerce WordPress theme
What do you want your visitors to see when they click on the link to your website? How would you like your products to be displayed? What do you want your shopping cart icons to look like?
The layout of your website totally depends upon the theme you select.
Selecting a theme that is lightweight and fast provides a better user experience and smooth performance. Astra tops the list for the fastest and most responsive theme and is definitely worth considering.
I have a separate article that includes the list of best WooCommerce themes to boost your website.
What are eCommerce plugins?
Your typical WordPress website is not built to process the functions of an eCommerce website. You'll need eCommerce plugins to turn your regular website into an online store.
eCommerce plugins include everything from WooCommerce to provide the framework, to CartFlows to minimize cart abandonment, SEO plugins to help visibility in search results to form plugins to enable customers to contact you.
How to select the best WordPress eCommerce plugins
You can find dozens of WordPress eCommerce plugins on the market that claim to help you easily build an online store.
While some WordPress eCommerce plugins can help with selling digital goods like photos, music, ebooks, and courses, others can be useful for selling physical products that require shipping.
So, how do you select a plugin for your eCommerce website?
I have listed a few things you need to evaluate while considering the use of the particular plugin on your website.
Price
You should definitely consider the pricing of WordPress eCommerce plugins.
While WooCommerce and many other plugins are free, there are lots of premium options that add features, for a price. Some charge annually and some monthly. A few have a one-off cost.
Check pricing carefully so you know what you're getting into!
Customization
You install and activate a plugin on your website, but can you customize it? Can you change what it looks like on the page? Can you brand it to your favorite colors or add your own design?
Not all plugins will be visible on screen, so customization is less of an issue.
Those that are should ideally work with your existing branding or be customizable enough so they don't stand out for the wrong reasons.
For example, the Astra theme's online store Starter Template is fully customizable when integrated with WooCommerce.
Reviews and installations
We all know the power of effective marketing so I always recommend reading plugin reviews.
This way, you get to know what it is like to use the plugin from people like you, in similar situations.
We use reviews for everything, so it's a good idea to use them here too.
The number of downloads and active installation is another factor to consider. A usable plugin rich in features is going to have far higher installation numbers than a less useful version.
Best WordPress eCommerce plugins compared
If you wish to make money from the 2.14 billion estimated buyers, one of these eCommerce plugins could help.
Below I have a detailed description of each plugin, but you can view the table and grab an idea regarding the plugins mentioned along with their pricing.
Let's view these plugins in detail: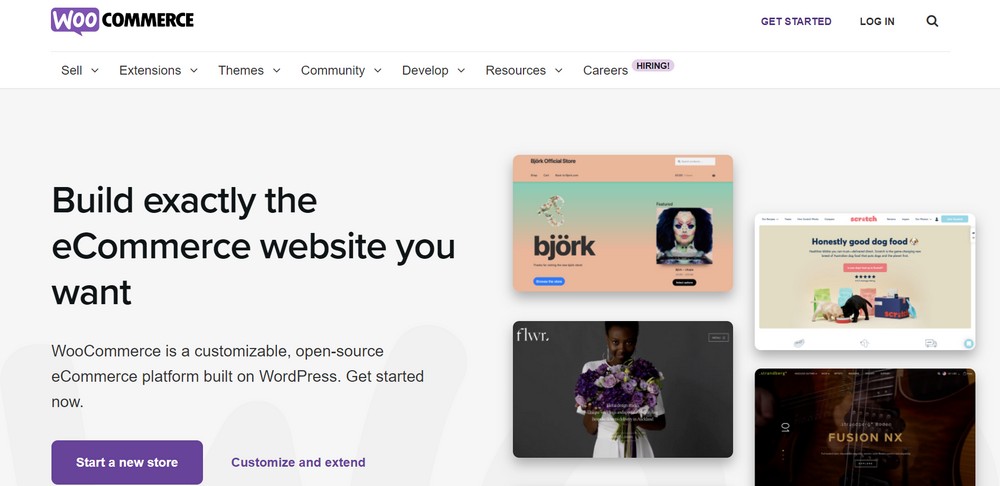 WooCommerce is the most popular WordPress eCommerce plugin available. It's a free plugin that includes most eCommerce features you need for your website. The plugin also offers addons and extensions to add features not included in the default installation.
WooCommerce integrates with WordPress seamlessly. Using the plugin, you can easily manage and run your online store as the plugin is compatible with most WordPress themes and plugins.
The plugin fits the needs of small and large-sized online businesses and offers helpful tutorial guides and plenty of documentation to get you started right away.
Features of WooCommerce:
Set up an online store in minutes
Customization options to design your store
Offers secure payment options
Provides full fledged inventory management
Easy configuration of taxes and shipping
Expand usage with the extensions and addons
Complete control over user experience
Pros of WooCommerce:
Offers great flexibility
Limitless customization options
Decent security with SSL
A professional aesthetic
Cons of WooCommerce:
Only for use on WordPress websites
Many extensions and addons require payment.
Pricing:
The plugin is completely free for use. Some addons cost extra though.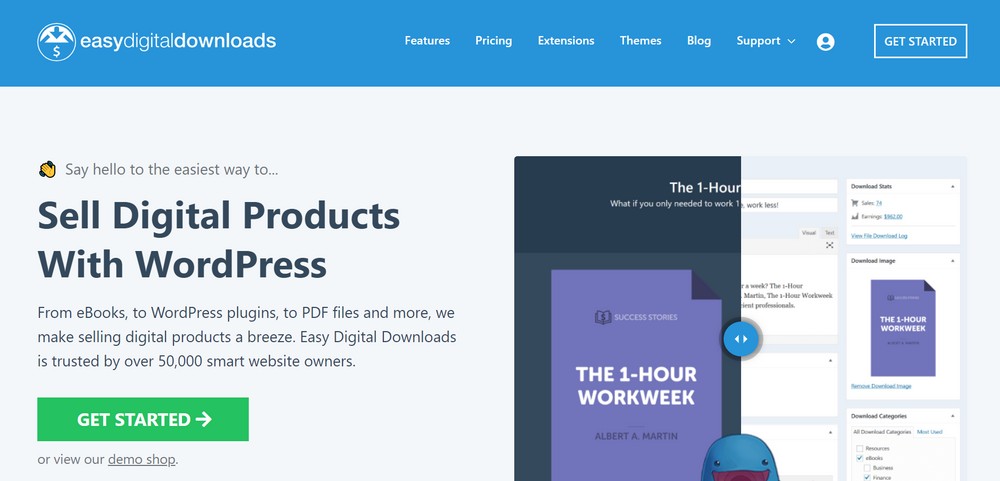 Easy Digital Downloads is a WordPress plugin designed to sell digital products in online stores.
You can sell all kinds of digital products, from eBooks to WordPress plugins, to PDF files and more. The plugin is used and trusted by 50,000+ website owners. It offers powerful functionality to meet your online business needs and turn it into a full fledged digital online store.
Easy Digital Downloads offers payment flexibility allowing you to start accepting credit card payments using Stripe, Apple Pay, Google Pay, and PayPal.
Features of Easy Digital Downloads:
Choose to buy now or add to cart button
Supports guest checkout
Maintains separate records for each customer
Track customer lifetime value and activity
View earnings by date range and category
An evolving software tool with active support
File downloads from your system having access to details such as download dates, times or IP address
Pros of Easy Digital Downloads:
Easy setup process
Can set recurring charges for subscriptions
Works with all major payment processors
WordPress theme compatible
Cons of Easy Digital Downloads:
Requires plugins to get the best out of it
Pricing:
Easy Digital Downloads has a free and a premium version starting from $199 per year.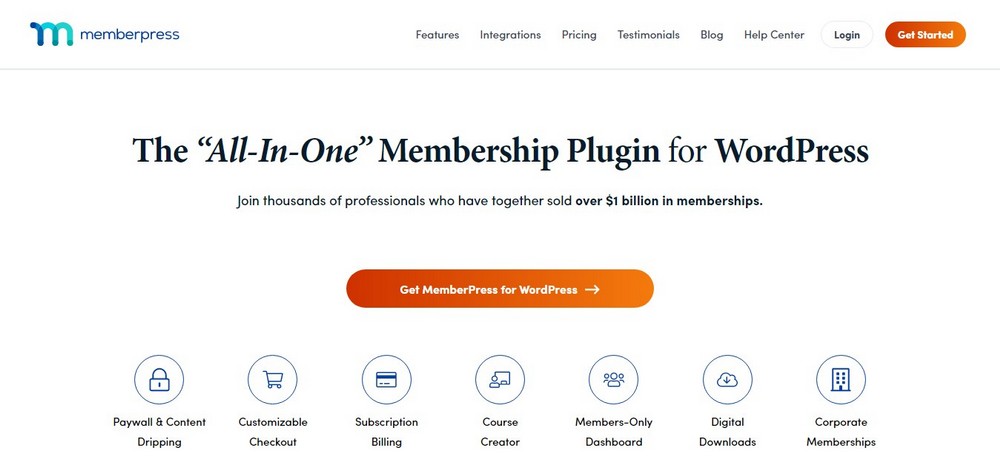 MemberPress is a WordPress plugin designed to sell subscription-based online products and services.
As the name suggests, it works by creating membership accounts that can be used for subscriptions and other recurring payments.
The plugin is ideal for any online store selling products on a recurring basis. It handles the payments, notifications, shipping, and every element necessary to run a successful store.
The plugin functions well with any WordPress themes, major payment gateways, affiliates, and other WooCommerce plugins.
Features of MemberPress:
Easy to sell subscription based products
Power to define user access levels and restrict contents accordingly
Offers an online learning platform with a built-in course builder
Customizable coupons to run promotions and giveaways
Attractive pricing pages with dynamic functionality to showcase products effortlessly
Drip content to keep your content irresistible and your customer's interest
Pros of MemberPress:
Useful and easy to use extensions available
Options to release paid content
Compatible with all the popular payment gateways
WordPress theme compatible
Cons of MemberPress:
Supports limited payment gateways: PayPal, Stripe, and Authorize.net
Only for subscription based online stores
Pricing:
MemberPress is a premium plugin available from $15 to $35 per month.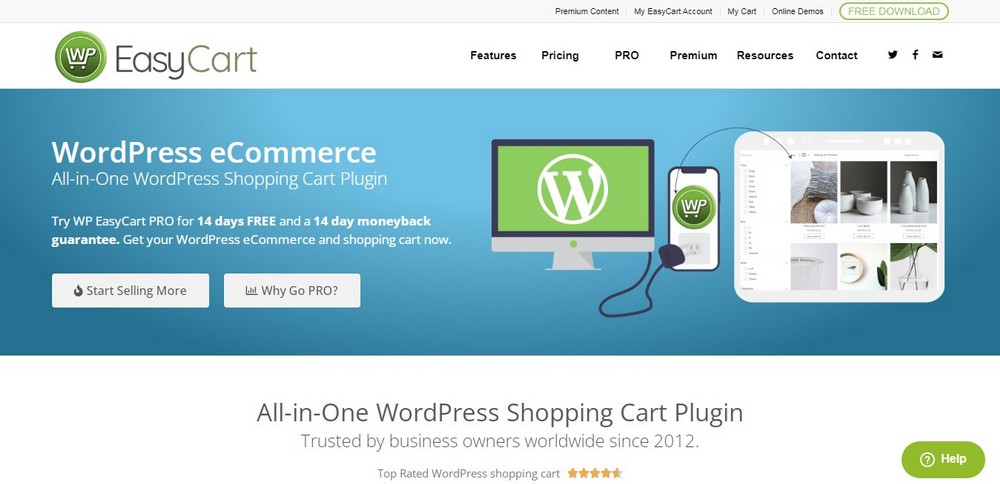 WP EasyCart is all in one WordPress shopping cart plugin. Using the plugin you can get your WordPress eCommerce store up and running right away.
WP EasyCart accepts all forms of payment gateways and offers flexibility to design your shopping cart and select the features you would want. It offers a straightforward dashboard to handle products, shipping options, and payment gateways and the tools you need to streamline checkout.
It also offers gift cards, invoicing, and all the tools necessary to build a fully functioning online store.
Features of WP EasyCart:
Easy cart management and simple forms
Option to view orders and store addresses of your customers
Supports 30+ payment gateways.
Easy customization of colors, fonts, and overall display
Create simple rates, free pickup, and live rates
Setup and collect payment with ease
Create coupons and discounts
Pros of WP EasyCart:
Simple management of orders, print sales receipts, delivery notes all in one place
Integrates with marketing tools for SEO optimization of each product
Offer shipping rates based on price, weight, quantity, or percentage
Easy customization to blend the design of your online store
Cons of WP EasyCart:
The interface of the plugin looks outdated
Pricing:
WP EasyCart has a free and a premium version starting from $69 per year.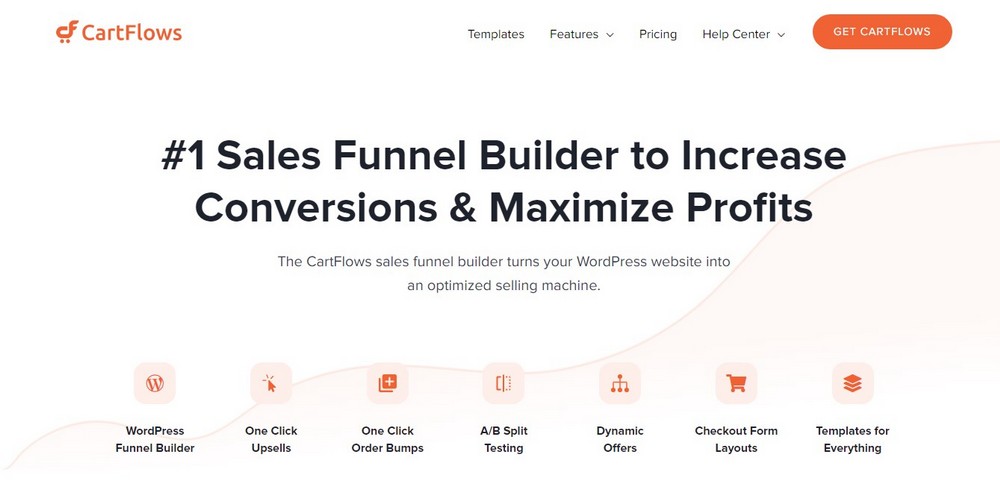 CartFlows is the #1 sales funnel builder developed to help you increase conversions and maximize the profit of your online store. It is a powerful, user friendly plugin that helps you generate leads and turn your visitors into customers.
It includes everything you need to generate leads and grow sales from upsells, order bumps, A/B split testing, checkout editor, cart abandonment recovery, and so much more.
CartFlows continues to provide exceptional performance. It has helped over 223,242+ online stores to increase their revenue by applying effective sales tactics. The best part is the plugin offers most of its services even in the free version!
Features of CartFlows:
One click upsell with one time offers, cross-sell related products, course creators selling
Adds order bumps to checkout pages.
A/B split testing identifies which version of your page generates more conversion
Displays the most relevant offers to your customers
Offers canvas mode to make complex funnel easy to understand
Flexibility to replace the default checkout page with CartFlows highly customized checkout page
Options to select from pre built conversion optimized templates
Builds high converting landing pages that instantly grow your email list
Pros of CartFlows:
Easy to use and highly customizable templates for everything
Offers complete control over every part of your buyer's journey
Delivers a full all in one sale funnel solution to your WordPress online store
Ensures excellent usability
Cons of CartFlows:
Some essential features locked behind premium
Pricing
CartFlows has a free and a premium version available for $239 per year.
WooCommerce Cart Abandonment Recovery is a plugin that functions by recovering carts abandoned by customers who exit without making a purchase.
The plugin captures the email address of users on the checkout page and if the purchase is not made within 15 minutes, it sends a series of follow up emails. You have the complete flexibility to customize the content and layouts of the email to match your brand.
The plugin helps you make the best of your revenue and offers unique checkout links that take customers to the exact place where they left off.
It also works with marketing automation tools like Active Campaign and offers coupon codes.
Features of WooCommerce Cart Abandonment Recovery:
Offers unique checkout links that direct users to exactly where they left off
Optionally show GDPR notice on checkout page
Pre-built templates for follow up emails
Using marketing automation tools like Active Campaign or Campaign Monitor
Generation of limited time unique discount coupons
A full report of cart recovery
Pros of WooCommerce Cart Abandonment Recovery:
Compatibility with most themes and plugins
No technical experience is required to use the plugin
Predesigned templates and layouts to use for emails
Adding the plugin doesn't affect your website in any way
Cons of WooCommerce Cart Abandonment Recovery:
The pre designed template offers plain text, so you have to work with adding images and buttons.
Pricing:
WooCommerce Cart Abandonment Recovery is an absolutely free plugin that you can use on your online store to recover abandoned carts.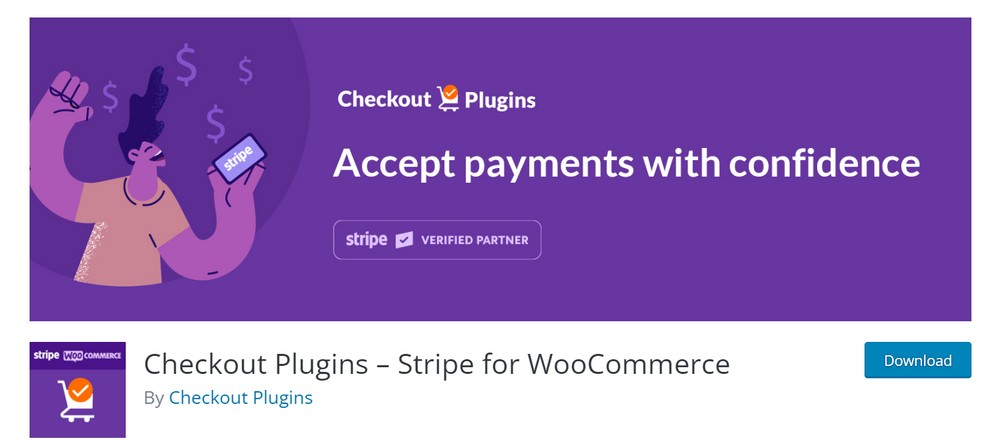 Stripe for WooCommerce is a popular payment gateway plugin that accepts credit card payments. Offering multiple payment options is proven to boost sales, which is made possible using this plugin.
Stripe allows you to accept payments from several card brands and global networks like Visa and Mastercard to local networks like Cartes Bancaires in France or Interac in Canada. It also supports American Express, Discover, JCB, Diners Club, and Union Pay.
If you wish to offer a wide variety of payment options to your customers, Stripe for WooCommerce is the plugin you need.
You have the power to fully customize the design, style, and location of these pay buttons. Visually style the buttons to match your brand.
Features of Stripe for WooCommerce:
Accepts credit card payments in your online store
Customization of the express pay buttons' style, design, and location
Visually styling options to match your brand
Select the location to showcase the button on the product page, cart, and checkout page
Complete flexibility upon the use of popular payment gateways
Official Stripe partner to deliver better payment services to online stores
Pros of Stripe for WooCommerce:
Simple and secure
Offers one-click checkout with Express Pay
Easy to start delivering express payments
No coding knowledge is required to use the plugin
Cons of Stripe for WooCommerce:
Supports major payment gateways but not all
Pricing
Stripe for WooCommerce is a completely free plugin.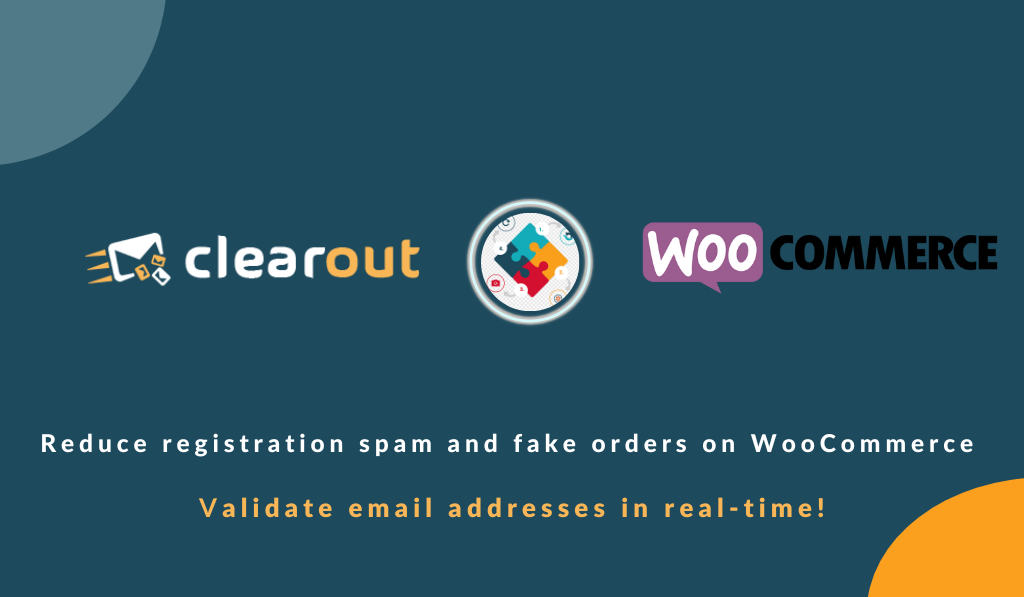 The Clearout plugin for WordPress can help reduce spam and fake orders. It verifies customer email addresses at registration or checkout, resulting in a cleaner order book and a more accurate customer database.
The plugin can help prevent mistakes like typos, syntax errors, disposable email addresses and bad contacts. These actions can improve the quality of your email list, increases open rates, saves on your marketing budget and protects your sender reputation.
Features of Clearout WooCommerce:
Accept valid email addresses only
Sanity checks email addresses at registration or checkout
Prevent all fraudulent signups from disposable email addresses
Block free email address providers on demand
Ability to resolve catchall domains
Pros of Clearout WooCommerce Plugin :
Easy to use extensions available
24/7 customer support
Free trial available with 100 credits
Option to set the default timeout duration
Cons of Clearout WooCommerce plugin:
Only for use on WordPress websites
Wrapping Up
I have come to the end of the best WordPress eCommerce plugins. The use of plugins helps you first develop a fully responsive eCommerce website and integrate all the eCommerce features to maximize the productivity of your website.
The list of plugins included functions from accepting payments to recovering abandoned carts to setting up an online store. I would suggest you understand the use of each plugin in detail before choosing which one to install on your website.
The plugins like WooCommerce Cart Abandonment Recovery ensure that you make the most of your abandoned cart recovery. In contrast, the plugins like CartFlows help you create a sales funnel that engages your customers to purchase by applying various tactics.
Stripe for WooCommerce is yet another helpful plugin that functions by providing your customers to use any timely payments for purchase. The other plugins like WooCommerce, Easy Digital Downloads, and MemberPress hold the power to convert your regular website into a fully fledged online store.
There's a plugin here for every kind of store!
So which of these are a must have plugin on your online store? Do let me know!