Big changes are coming to CartFlows.
After some big feature releases this year, we want to finish strong with a new update for our sales funnel builder plugin.
Updates will include:
A completely reimagined funnel building interface so you can work faster and more effectively.
New pricing plans so you can start using CartFlows more economically.
We're also releasing two new powerful tools that will let you automate your business and increase sales in your online store with minimal effort.
If this sounds good to you, keep reading.
CartFlows recap of the year
Since its launch in 2018, we have been steadily adding new features to CartFlows to help you increase revenue in the easiest way possible.
We kicked off 2022 with the release of CartFlows 1.9. It was a huge update that added the following new features:
Modern checkout
The checkout is one of the most important pages in your online store.
It's the step in which your potential customer will decide whether to complete the purchase or not.
It's important that checkout is visually appealing and also optimized for conversion.
CartFlows 1.9 improved these critical points. We created a new checkout from scratch in which everything was new, streamlined and offered a premium experience.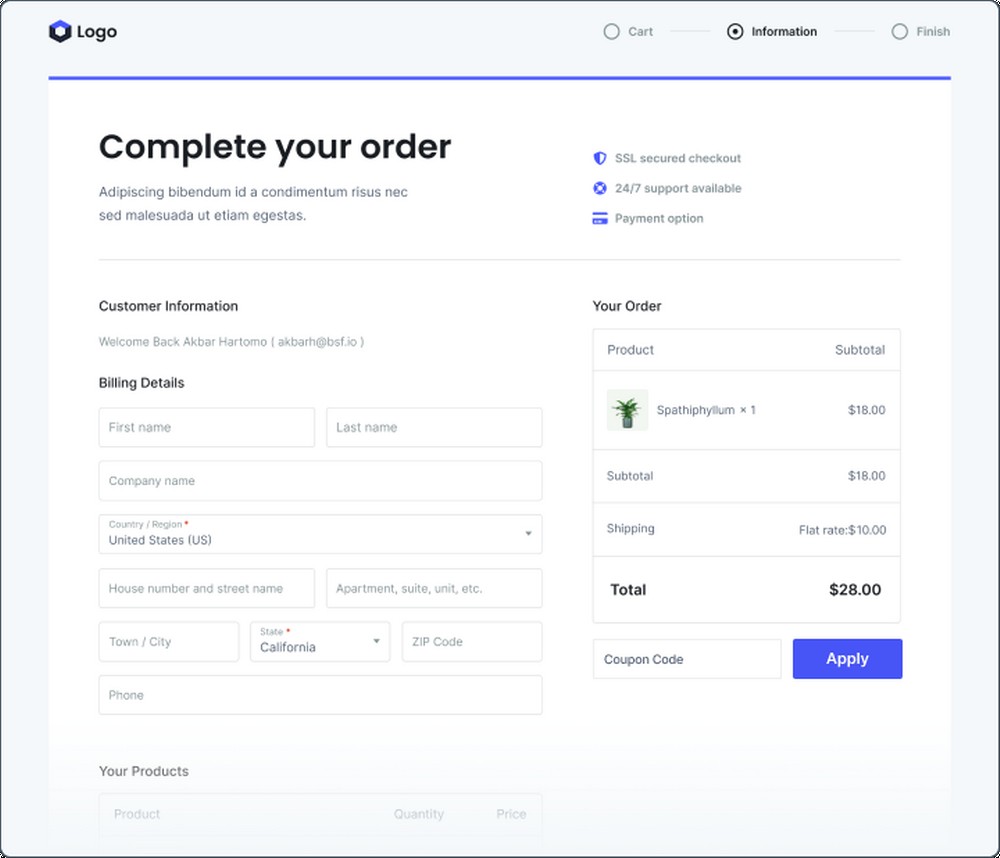 Among other things, we added new checkout templates and new animations to the data fields, turning it into something much more eye-catching.
We also added features more focused on improving conversion, such as a real-time email validation tool, Google address autocomplete and a new modern order summary box.
Check out this post if you want to learn more about these features and others such as the field manager or express checkout.
New onboarding
We know that getting started with a new tool can be overwhelming.
Although we have an extensive knowledge base to help you use CartFlows, there is no easier way to get started than with direct help in the WordPress admin panel.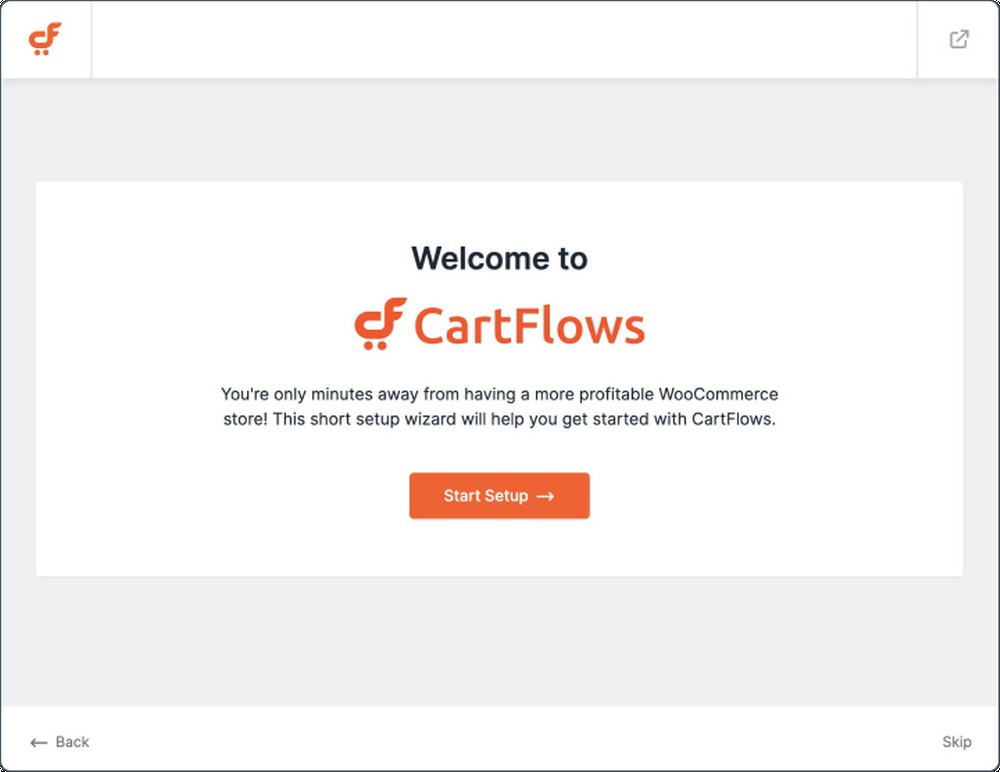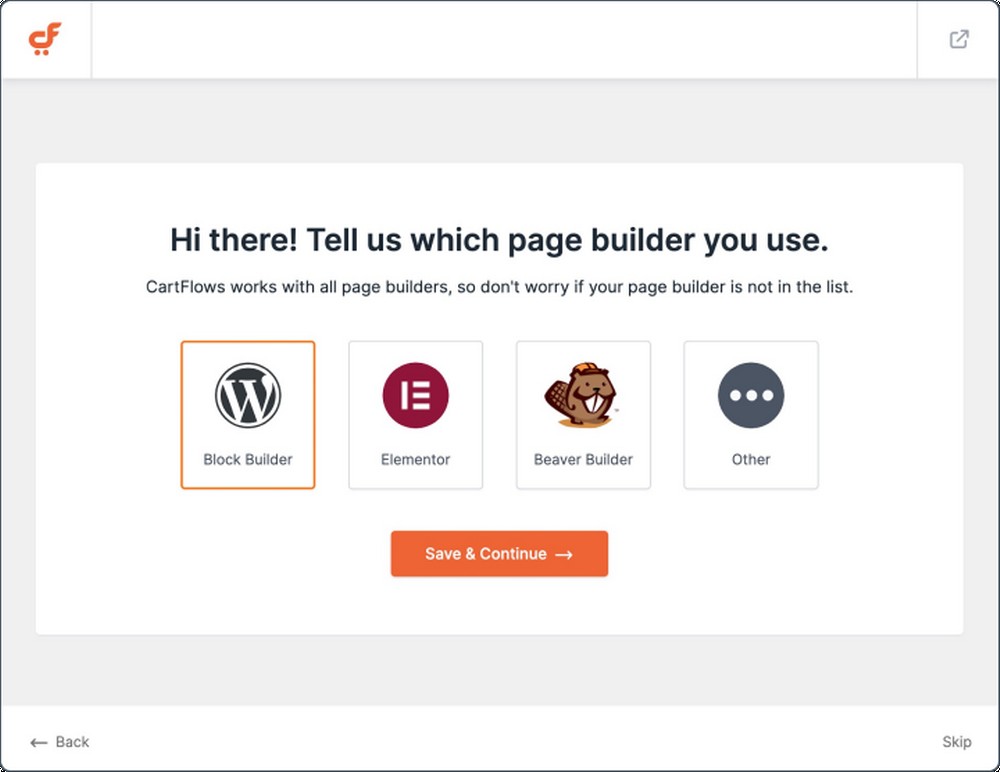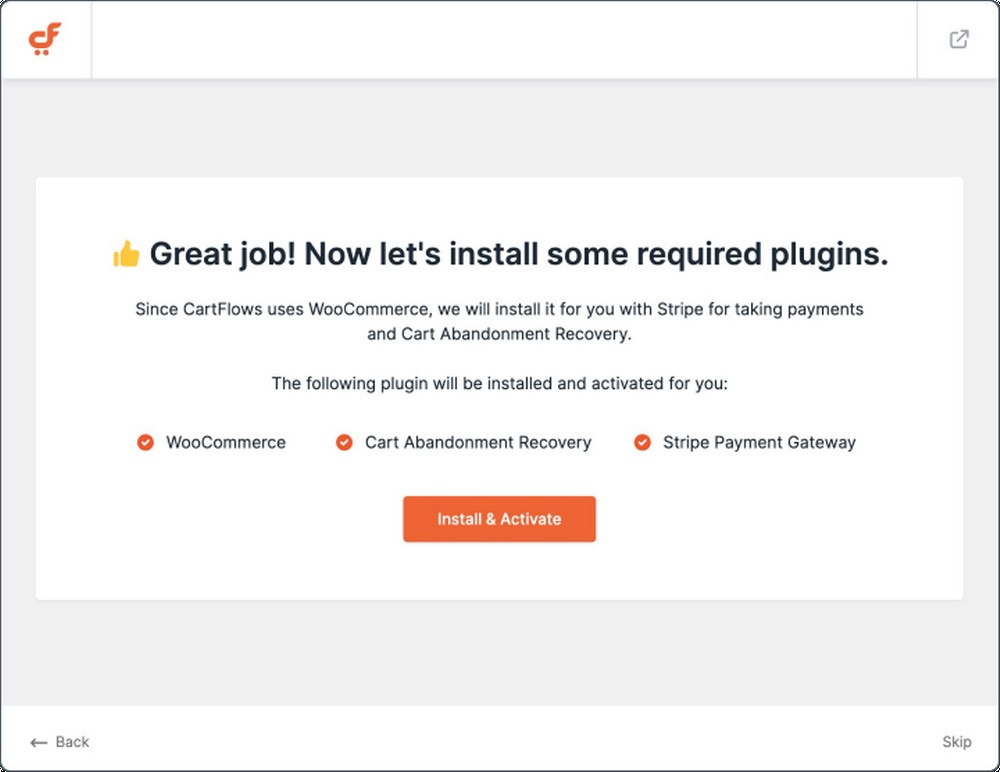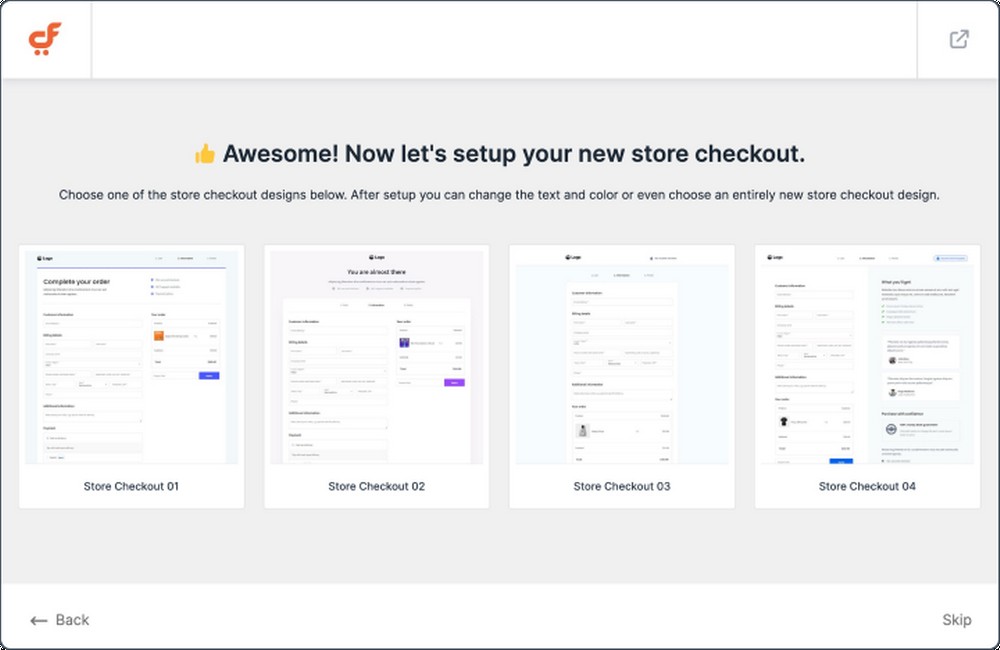 User role management
Our goal with CartFlows is to make it easy for you to grow your business.
Growing your business means working with more people at some point.
Teamwork makes the dream work!
That's why we also introduced the option to define which WordPress users have access to CartFlows pages.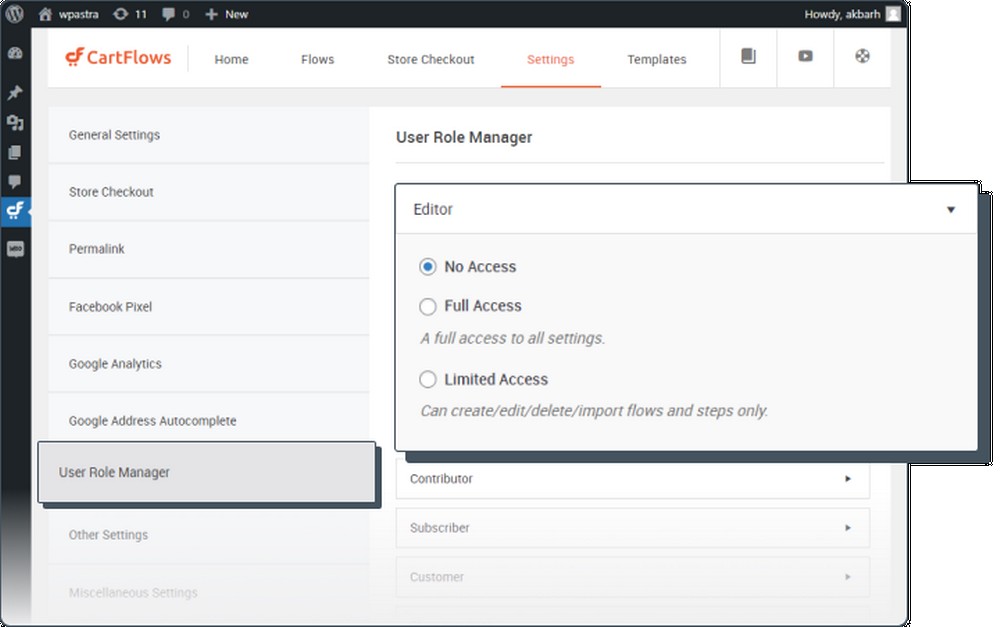 Don't want your content writers to access funnels? Block their access to CartFlows completely.
Hired a funnel expert but you don't want them to change global settings? Limit their access to only flow/steps.
Role management is an easy-to-use tool that's very handy for teams. Read more about this feature in the knowledge base.
New products
We are really excited about this!
We are launching 2 new products that will greatly enhance the way you manage your business. They can even help you increase your profits!
The best part?
If you already are a CartFlows Pro customer, you will get them both, for free!
Do you want to know what we're going to include in your current CartFlows license?
Keep reading…
SureTriggers cross-platform automation
SureTriggers is a new plugin that will help you automate your business. It's designed to save you time, money, and reduce the burden of working manually.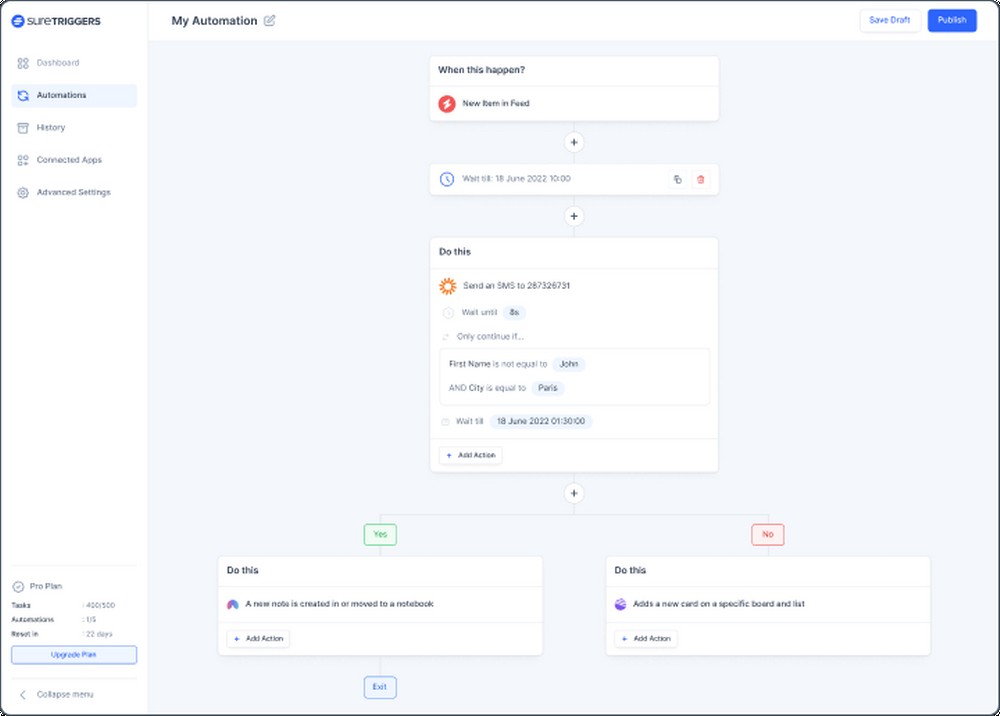 SureTriggers will connect plugins and online services you already use (and even different websites). It will share information between them and help them work seamlessly together.
SureTriggers comes with an intuitive drag and drop interface. No coding is required so the platform will be usable by all skill levels.
We will even include ready-made "recipes", so you don't have to create them, just implement them.
We like to make things easy for you, but if you're our customer, you already knew that!
You can use SureTriggers for anything:
Add an email entered in a contact form to your mailing list.
Create another user account on a different website than where the user signed up (for example, if you sell your courses on one website, but your training platform is on another).
Create more complex automations that include decision branches, so that the final result varies depending on certain conditions.
In the following video you'll see how easy it is to create these examples:
SureTriggers integrates with Airtable, Teachable, LearnDash, WhatsApp, Circle, WordPress, and many other platforms and services.
SureTriggers is an amazing tool for every business!
Because our mission is to help all businesses be more profitable we'll offer a 100% free plan where you can run up to 500 actions per month.
A similar plan with Zapier would cost you almost $30 per month, but we offer it for free. We don't want anyone to miss out on the benefits of an automated business.
We'll also have a Pro plan with more powerful features, including delays, conditions, filters, branching, and more.
CartFlows Pro license holders will get a SureTriggers Pro plan with thousands of actions per month included (a similar plan with Zapier would cost over $1k per year). But,as a loyal customer, you will get it absolutely free!
In the software business this is unheard of. But we would be nowhere without your support and trust in us, and this is our way of saying thank you.
Modern Cart, increase your average order
Modern Cart is an addon for WooCommerce that makes the buying process much smoother and elegant.
It also encourages buyers to add more to their cart with in-cart order bumps. This will help not only reduce cart abandonment and also increase the average customer order.
When a potential customer adds an item to their cart, instead of the classic prompt from WooCommerce that simply recommends you to go check it, a slide-out (or a pop-up) will appear.
This will show:
Cross-sells and upsells you've configured in WooCommerce.
A progress bar indicating how much more they should spend to get free shipping.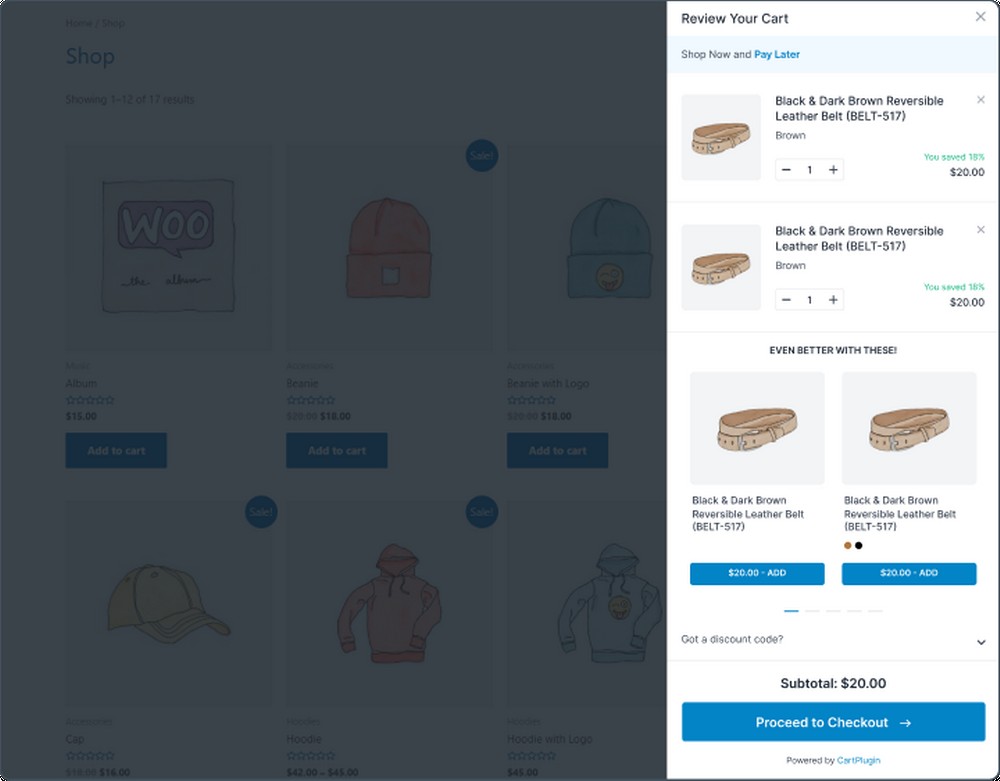 Thanks to Modern Cart you can encourage your buyers to add more products and spend more.
Once they do, the well-designed CartFlows checkout will do the rest of the work. It will close the deal with the best user experience possible.
That's why we have decided to include Modern Cart in the current CartFlows Pro plan.
They are two tools that work very well side by side, and that's why we want you to use them.
New CartFlows plans
We are at a strange time right now, where everyone is raising prices. Competing offerings are already 2x – 10x the cost of CartFlows.
But we have never been one to follow the trend.
CartFlows always offered only a single premium plan at $299 per year.
This unique plan made the pricing really easy to understand, but meant the upfront cost was out of reach for some users.
That's why, starting today, we've decided to make changes to our pricing structure to make CartFlows more affordable.
We are introducing not one, but 2 new, affordable plans.
Best of all, you can easily upgrade from one plan to a higher plan at any time.
You could start with a Starter plan and use the revenue boost you'll get to pay for the upgrade.
We are pleased to announce that CartFlows will offer 3 premium plans instead of one:
CartFlow Starter (just $99/year) – Perfect for stores wanting to upgrade their checkout page.
CartFlow Plus ($199/year) – Ideal for stores that want to increase their average order value.
CartFlow Pro ($299/year) – A great option for stores that want to maximize their revenue and automate their income.
Remember that all of the above plans allow you to access technical support and upgrades for as long as your license is active.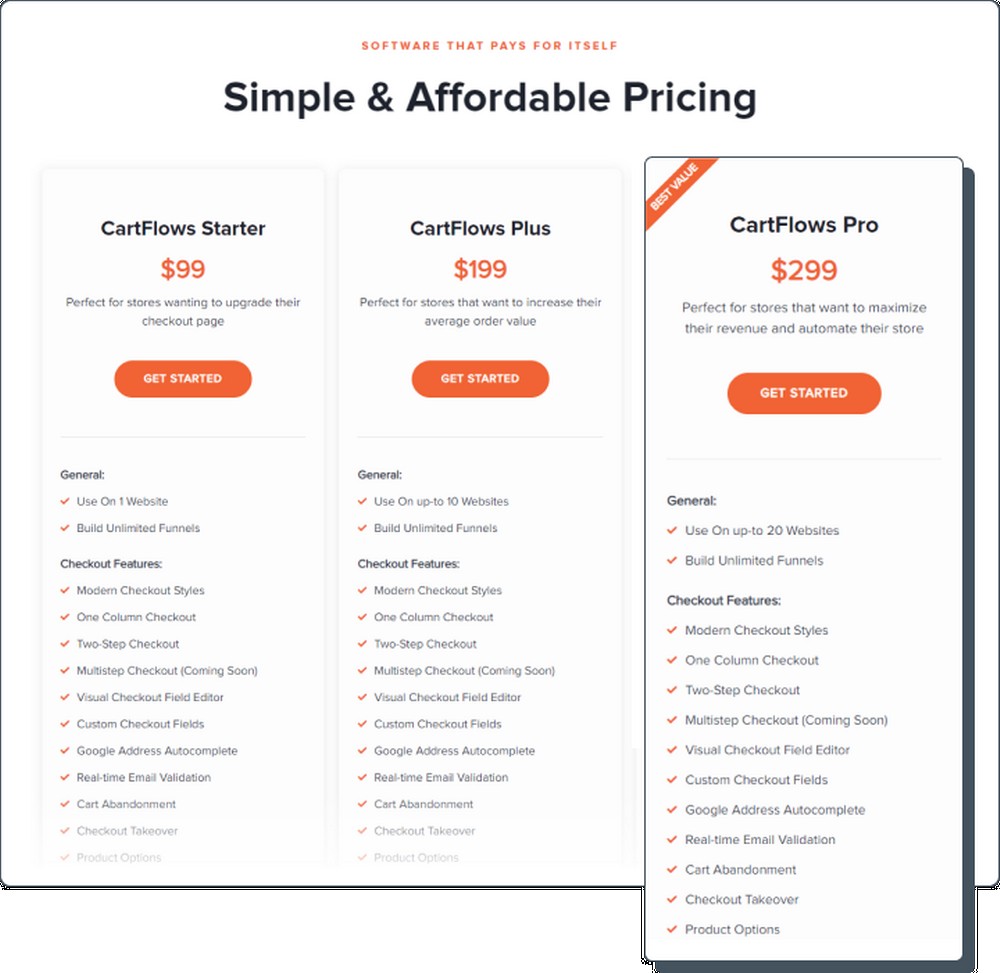 Let's see these new plans in detail!
CartFlows Starter ($99/year)
The Starter plan is perfect for stores wanting to upgrade their checkout page with high-converting dynamic order bumps along with all our powerful checkout related features..
The Starter plan is the perfect step up from our already awesome CartFlows core. The idea behind it is that merchants can use the included features to increase their stores revenue by 10% – 20% quickly and easily.
This revenue bump can make a huge difference in the lives of merchants.
The Starter plan Includes all these powerful checkout-related features:
Modern Checkout styles
One column checkout
Two-step checkout
Multistep checkout (coming soon)
Visual checkout field editor
Custom checkout fields
Google address autocomplete
Real-time email validation
Cart abandonment
Checkout takeover
Product options
You'll also be able to use order bump features in this plan. Something that can quickly increase your revenue by up to 10 to 20%.
These bump offers are dynamic (they will vary for each user depending on certain conditions). You can easily modify their location and style to adapt the final layout to your liking.
That's a ton of powerful features for a very reasonable price!
CartFlows Plus ($199/year)
The CartFlows Plus plan is ideal for stores that want to increase their average order value by multiples, not percentages. It includes everything in the Starter plan, but also includes dynamic one-click upsells.
Dynamic one-click upsells have the potential to drastically increase the average order value of your store. And they are smart, very smart!
For example, if a buyer has already purchased the offer in your upsell, you can optionally show them a different offer.
This is just one of many smart conditions to make sure you are making the right offer to the right person at the right time.
The price for this plan is $199 per year.
If this plan sounds good to you, wait until you see everything the new Pro plan has to offer!
CartFlows Pro ($299/year)
The CartFlows Pro plan is great for stores that want to maximize revenue and automate operations.
On the surface it may seem like the same Pro plan we have always had, and you would be mostly right :-).
Except for one thing. Well two things.
In addition, all the powerful features to help your store sell more CartFlows Pro now also includes access to 2 powerful new products. Both will help you sell even more and completely change the way you manage your online business/website.
Modern Cart plugin (which would normally cost $99 per year) – A tool that will encourage visitors to add more items to their cart.
SureTriggers Pro (release expected this November) – An automation tool that will save you ~$800 per year when compared to Zapier.
This is a massive increase in value compared to the previous Pro plan.
Where other companies want you to keep paying more and more, at CartFlows we want to keep giving you more and more.
In comparison to our Plus plan, the Pro plan also includes all of our advanced funnel features including:
A/B split testing
Smart funnel routing
Analytics
Conversion optimized funnel templates
Bold new future
CartFlows is approaching its 4th birthday next month. This is a huge milestone and we couldn't be more proud seeing all the businesses it made a huge impact on.
One thing that we have been working on for the past 12 months is completely reimagine what the CartFlows experience is and how we can optimize every aspect of it.
Everything about the user interface and user experience is going to completely change. We are making huge investments in design across our products and with CartFlows specifically, we will be introducing bold new changes that you are going to love.
Our mission is to help store owners sell more and we think you're going to love what we have done!
Stay in the loop
If you want to know when these tools will become officially available, when we'll launch the new CartFlows design, or if you don't want to miss future updates of any of these products, subscribe to our newsletter and join the CartFlows Facebook group.
But most importantly, we recommend you take advantage of the new pricing plan. Get your CartFlows license and enjoy the new features right away!